Napoleonic, new catalogue n°108, Grosvenor Prints
Grosvenor prints has the pleasure in putting out our new Catalogue 108 in commemoration of the 200th anniversary of Napoleon's death. This large listing of over 450 items contains; portraits of Napoleon and others, battle scenes, Waterloo, Views Overseas including political scenes of Napoleon, Saint Helena, Ephemera, Broadsides, Satire and a few decorative items.
Highlights include:
Cover image: Napoleon Buonaparte.
Gerard Pinx.t. W. Bromley Sculp.t. I.G. Murray Fecit.
Pub.d by R. Bowyer, 1825.
Engraving. Sheet 515 x 370mm (20½ x 14½"). Tears taped, cracks in image.
A portrait of Napoleon Bonaparte in his coronation robes by François Gérard (1770-1837), whose painting is now in Versailles. This is a copy of the important 1808 etching by Auguste Gaspard Louis Boucher Desnoyers (1779-1857) personally comissioned by Napoleon, for which Desnoyers is said to have been paid 2000 livres, as well as the right to sell his own prints after 600 impressions had been printed.
[Ref: 55834] £130.00 (£156.00 incl.VAT)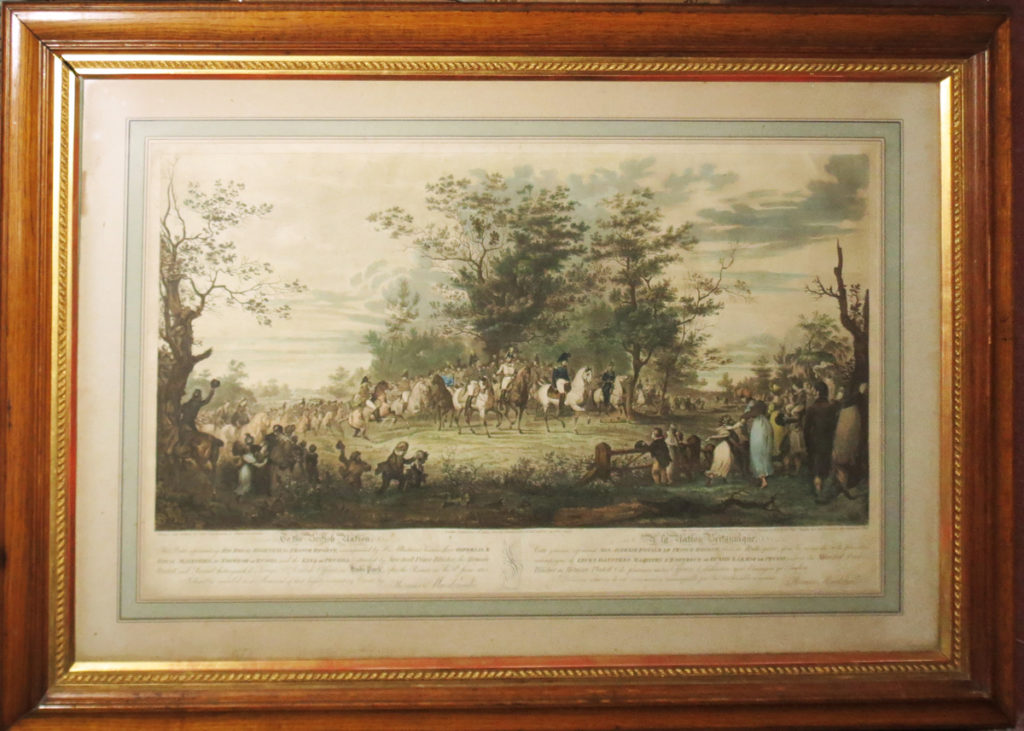 [Allied sovereigns' visit to England, 1814] To the British Nation; This print representing His Royal Highness the Prince Regent, accompanied by his Illustrious Visitors their Imperial & Royal Majesties the Emperor of Russia, aand the King of Prussia, & attended by Marshall Prince Blücher the Hetman Platoff and Several distinguish'd Foreign & British Officers in Hyde Park, after the Review on the 20th June 1814; Is humbly inscribed as a Memorial of that highly interesting event by Thomas Macdonald.
Drawn and etched by Alex.r Sauerwied, a Native of Russia. The Portraits Engraved by E. Scriven, Historical Engraver to H.R.H. the Prince Regent and the Landscape aquatinted by J.Hill.
Published 12th June, 1815 by T. Macdonald, Poets Gallery, 39 Fleet Street.
Coloured etching with aquatint. Framed, sight size 460 x 760mm (18 x 30″). Unexamined out of frame.
A view of the Prince Regent on horseback with the monarchs of Russia and Prussia, Britain's allies against Napoleon, during the celebrations at the end of the War of the Sixth Coalition. The celebrations were premature: this print was published six days before the Battle of Waterloo.
[Ref: 55770] £1,250.00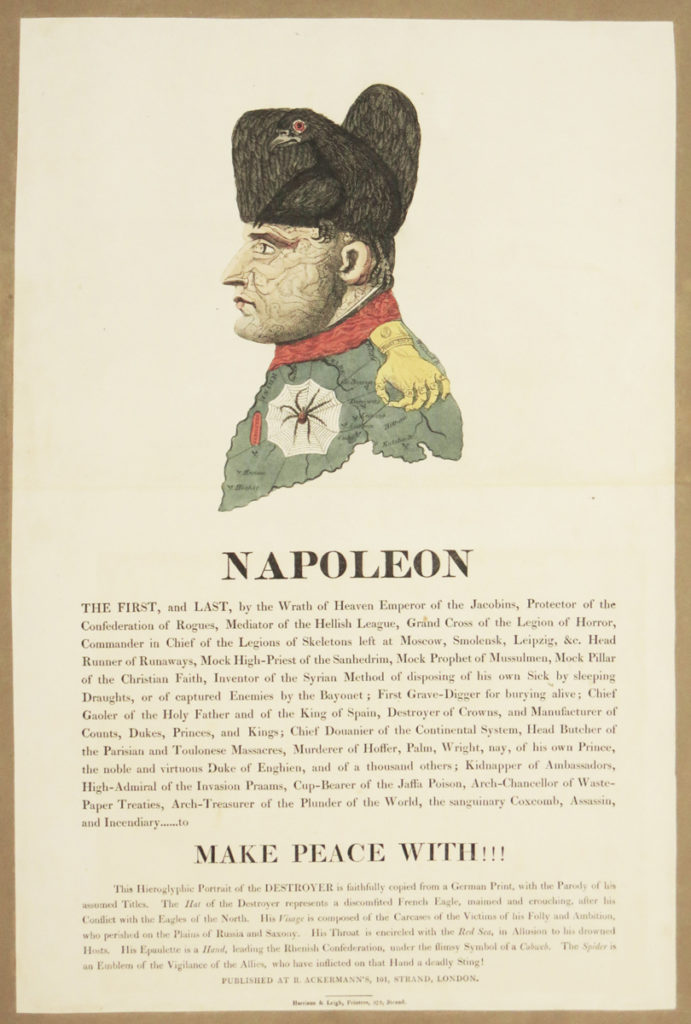 Napoleon. The First, and Last, by the Wrath of Heaven Emperor of the Jacobins, Protector of the Confederation of Rogues…
[after Johann Michael Voltz.]
Published at R. Ackerman. 101 Strand, London [1814].
Very fine hand coloured etching and letterpress. Sheet 445 x 295mm. (17½ x 11½"). Laid on album paper.
A satirical portrait of Napoleon, with explanatory letterpress underneath. The spider's web is surrounded by a map with Napoleon's battles around the Elbe & Rhine. Napoleon's hat is portrayed as an eagle, with his face made of the corpses of those 'who perished on the Plains of Russia and Saxony'. Napoleon's jacket is a map of the environs of Leipzig, with other battles in the campaign indicated. Also on the jacket, the epaulette is shown as a hand, leading the 'Rhenish Confederation', shown as a cobweb. 'His throat is encircled with the Red Sea', symbolizing those who drowned in the battles led by Napoleon.
[Ref: 38077] £690.00
The full catalogue can be found here:
https://www.grosvenorprints.com/catalogs/Grosvenor-Prints-Catalogue-108.pdf