The Martinez Gallery is pleased to announce the release of its latest catalogue
«Catalog XXVI – Antique and modern prints to collect»
It will be available online on SEPTEMBER 20th at the following link:
 Martinez. D Gallery XXVI Catalog 
To discover, among other things: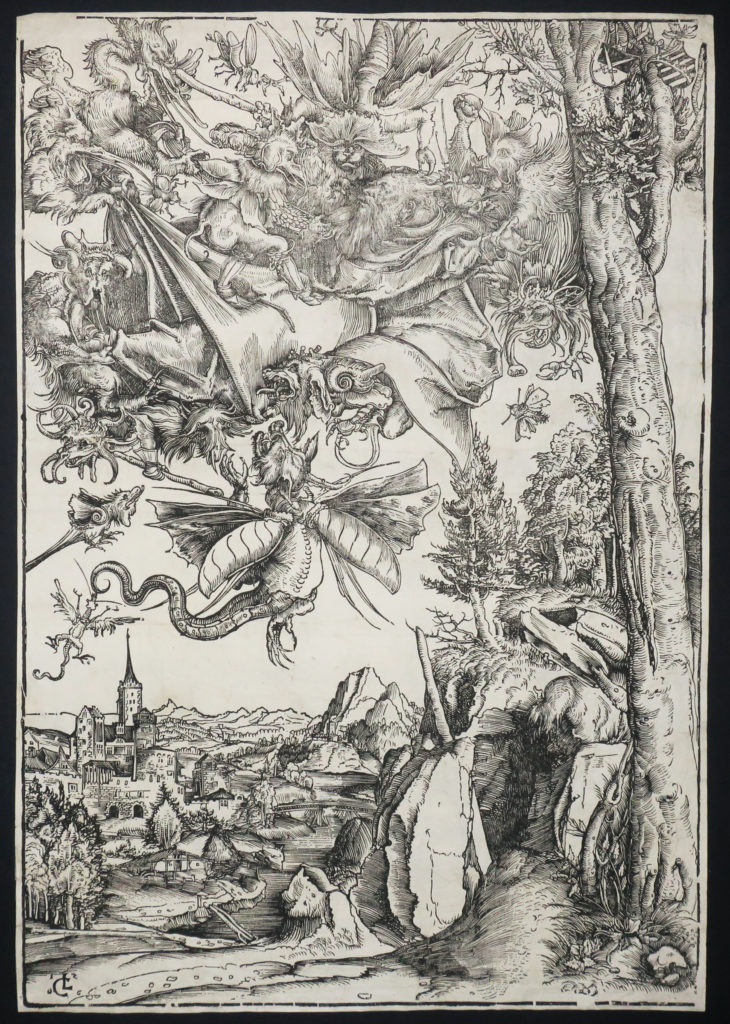 Lucas CRANACH, the Elder
Kronach (Germany) 1472 † Weimar 1553
The Temptation of Saint Antony. 1506.
H408xL282mm.
Original wood. Some folds related to printing and handling.
Ch. Le Blanc, n°86. Bartsch, n°56. Hollstein, n°76.
Signed with the artist's initials and dated down left in the composition.
Proof of the Second State on II, on filigree laid paper (Coat of Arms with fleur de lys), bearing on the back a collection mark not identified by Lugt (n°1521a Unidentified mark, found on 16th century German prints.
Small margins.
The first religious engravings of Cranach of 1502/1503 are particularly rare and some are known only by unique impressions. From 1505-1506, when he became an employee of the elector Friedrich the Sage, the production of his impressions increased dramatically and these engravings survived in greater numbers. Cranach chose demonic temptation, probably because it allowed him to freely portray the fantastic hybrid creatures shown here. Schongauer's engraving (circa 1475) inspired the group of attacking figures St Antoine, but the landscape of the background is undoubtedly the product of Cranach's own imagination.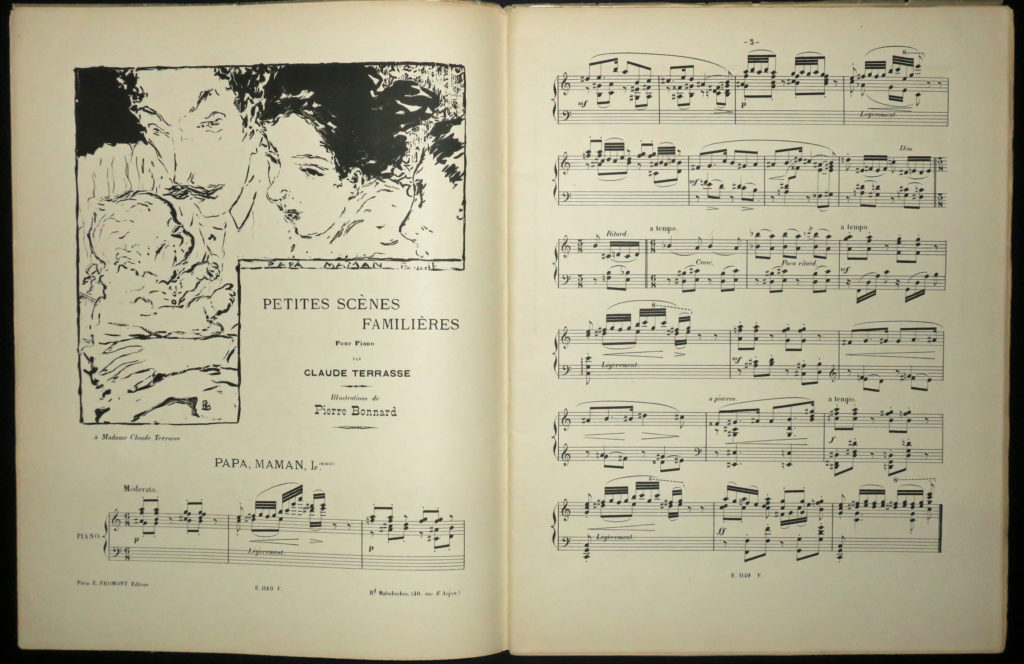 Pierre BONNARD
Fontenay 1867 † Cannet 1947
Petites scènes familières pour piano. Paris, Fromont, [1893].
Grand in-Quarto (H350xL270mm), soft-cover.
Rare musical score by Claude Terrasse, illustrated with 19 lovely original lithographs by Pierre Bonnard. Roger-Marx, n°6 to 24.
Bouvet, n°6 to 24. Paris, E. Fromont Publisher, Boulevard Malesherbes (40, rue d'Anjou).
Small number editions – not specified.
in a good state of preservation.
The fifteen scores of the «Petites scènes parisiennes» are followed by four humorous pieces entitled «La fête au village». Pierre Bonnard and Claude Terrasse, his brother-in-law, have collaborated on numerous occasions, including with Alfred Jarry in the «Repertoire des Pantins».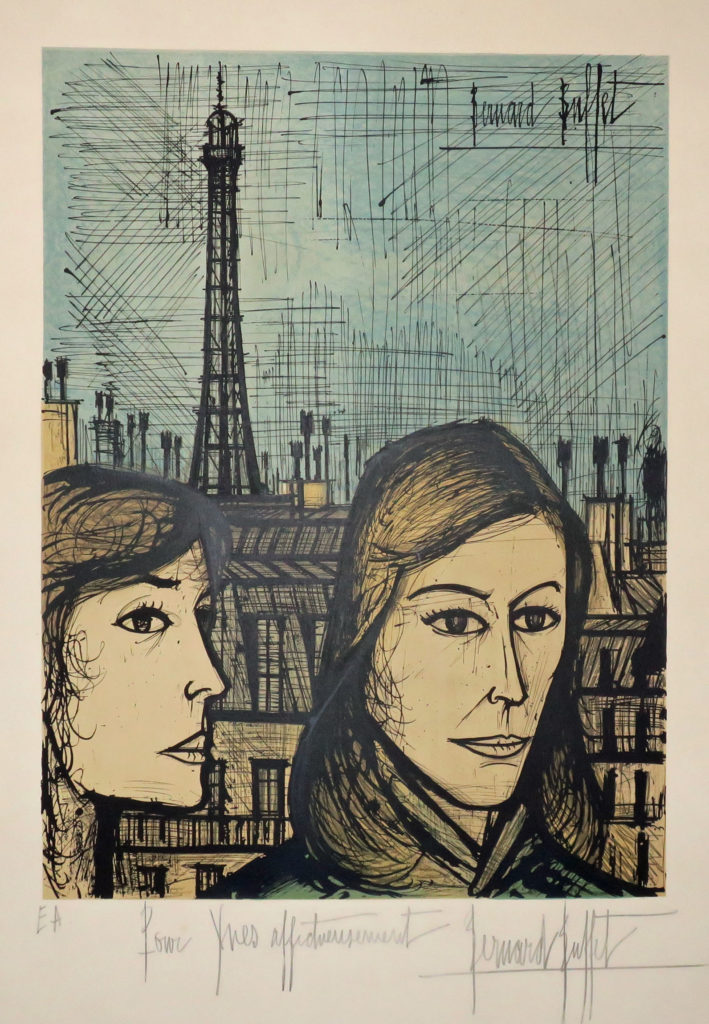 Bernard BUFFET
Paris 1928 † Tourtour 1999
Devant la Tour Eiffel. 1958.
H720xL490mm each.
Two original lithographs, printed in colour.
The reverse sides and the edge of the lower margin for the first lithography, are insolated.
Sorlier, n°19. Signed at the top right in the composition
Beautiful artist proofs, on Rives vellum paper, signed and autographed «Pour Yves (Saint-Laurent) affectueusement» and «Pour Pierre (Bergé) and Christiane (sa maman)» in pencil.
Good margins.
Origin: Pierre Bergé collection.
At the age of twenty, Pierre Bergé met the painter Bernard Buffet, of whom he becomes the companion and accompanies the career for eight years. The two men had met in a café Rue de Seine and lived a love affair until Pierre Bergé left for Saint Laurent. In 1958, Pierre Bergé met Yves Saint Laurent in Parisian outings. Together they will create the couture/fashion house so famous today. In love with works of art, the two men were great collectors.