Grosvenor Prints, new catalogue n°107
Grosvenor Prints has the pleasure in putting out our new Catalogue 107 – a mixture of portraits, topography both Foreign and UK, satire and some maps.

Highlights include:
Cover image: Portrait of the late extraordinary Artist, Thomas Girtin, Natus Feb.y 18. 1775 Obiit Nov. 9. 1802. To Sir George Beaumont Bar.t, One of his earliest Patrons This Print is with Permission respectfully dedicated by his very obliged & grateful Serv.t John Girtin. J.Girtin in the recent fire in Broad Str.t having lost all his property, excepting some prints & c. which with this portrait of his late Brother, he respectfully offers to a liberal Public.
Painted by John Opie Esq.r R.A. Engraved by S.W. Reynolds.
London: Pub.d May 16, 1817, by J. Girtin, Engraver, Printer &c. No 25 Old Compton Street, 3 doors from Princes Street, Soho.
Fine mezzotint. 375 x 255mm (14¾ x 10″0. Trimmed to plate.
Half-length portrait of Thomas Girtin (1775-1802), holding a porte-crayon and sketch-book. Watercolourist, friend and rival of J.M.W. Turner. , with whom he closely worked. He died aged just twenty-seven, shortly after completing his most ambitious and spectacular work, the Eidometropolis, a 360-degree panorama of London measuring over 100ft. The portrait was published by his brother John Girtin, who had just lost his stock in a fire of November 1816.
Whitman 114, i of ii, before further shading of letters of names in the inscription.
[Ref: 55670] £360.00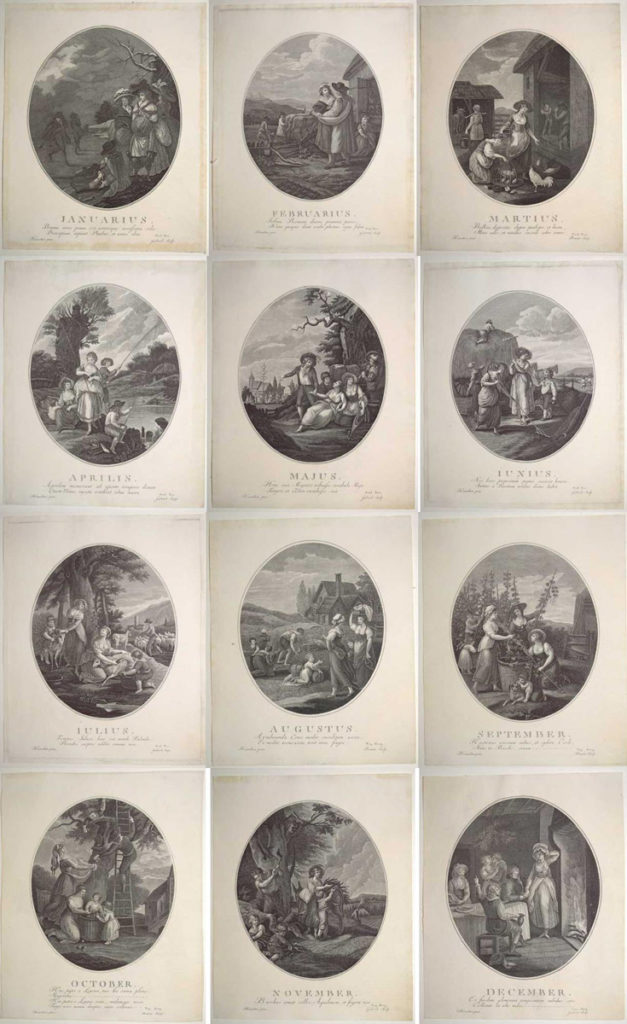 [Twelve Months.] Januarius. [&] Febuarius. [&] Martius. [etc]
[Hamilton pinx. Gabrieli [& Bonato] sculp.
[n.d., c.1790.]
Set of twelve engravings. Each c.310 x 255mm (12½ x 10″). Most trimmed to plate, some with stains to edges.
A set of twelve ovals representing each month, named in Latin and with lines from Ovid, including scenes of skating, angling, a may pole, harvesting, sheep-shearing hop-picking and chopping fire wood. Engraved by Amedeo Gabrielli and Pietro Bonato. May with slight loss at top; June very small tear top centre margin; September small repaired tear left top margin and crease on left in image; December repairs in title area.
[Ref: 55633] £2,800.00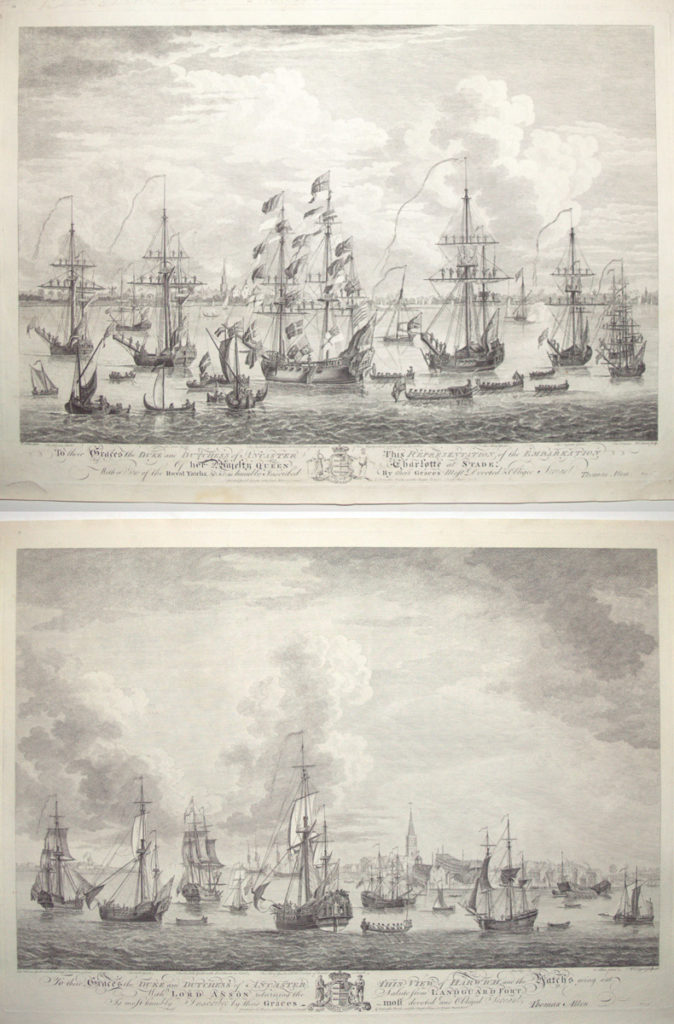 To their Graces the Duke and Dutchess of Ancaster This Representation of the Embarkation Of her Majesty Queen Charlotte at Stade; With a View of the Royal Yatchs, &c. &c. is humbly Inscribed By their Graces' Most Devoted & Obliged Servant. Thomas Allen. [&] … This View of Harwich, and the Yatchs going out, With Lord Anson returning the Salute from Landguard Fort is most humbly Inscribed …
T. Allen pinx. P.C. Canot sculp.
Printed for Jn.o Bowles at the Black Horse in Cornhill; & Carington Bowles, next the Chapter House in St Paul's Church Yard [n.d., c.1765).
A pair of very scarce engravings. Each c. 425 x 605mm (!6¾ x 23¾"), with large margins Repaired tear in margin of first plate.
A pair of maritime scenes depicting the passage to England of Charlotte of Mecklenburg-Strelitz for her marriage to George III in 1761. The first shows her departure from Stade in Lower Saxony on 28 August 1761, the second her arrival at Harwich on the 6th September, after a 10-day voyage hampered by three severe storms.
[Ref: 55681] £1,600.00
Grosvenor Prints will also be putting out a Napoleonic listing 5th May!