Grosvenor Prints, catalogue n°118
We have the pleasure of uploading our new listing: numéro 118!
Highlights include:
Cover image: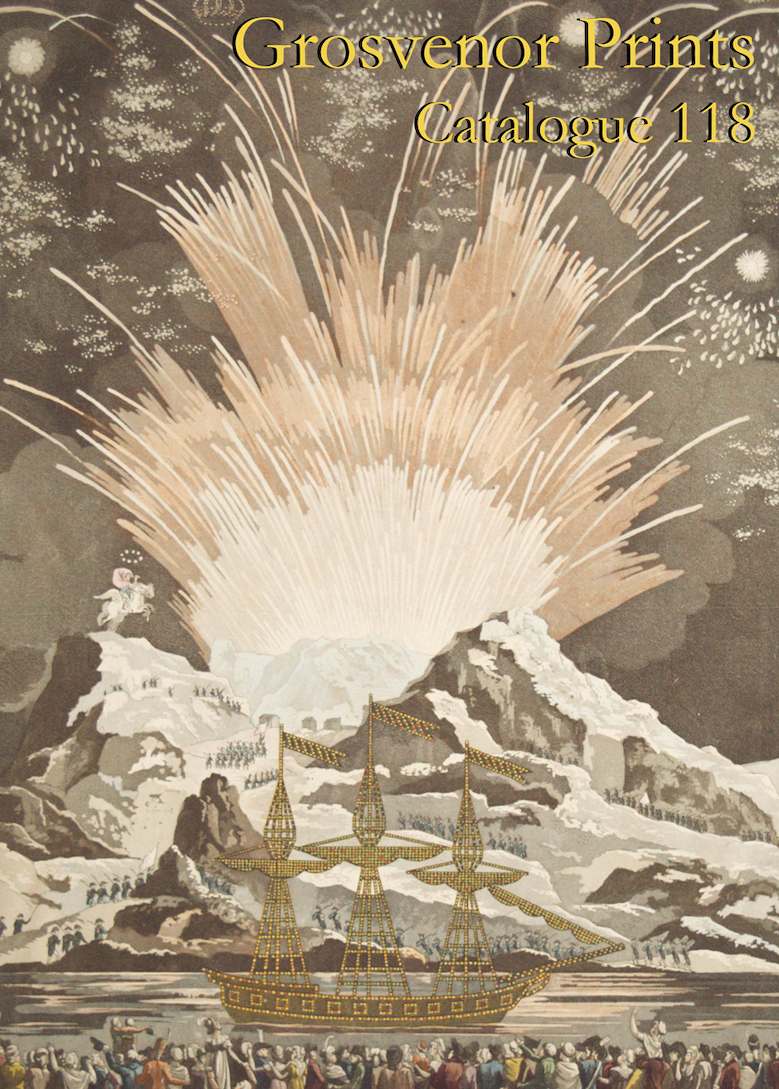 Fête du Sacre et Couronnement de Leurs Majestés Imperials. Vue de la Décoration elevée en face de la Place de Grève de l'autre cote de la rivière, à l'occasion de la Fête donnée à leurs Majestés, par la Ville de Paris.Le Cour del. et sculp. [Paris, 1806.] Scarce aquatint with hand colour. Sheet 440 x 330mm (17¼ x 13″). Trimmed within plate, repairs in inscription area with loss of text including publication line. A view of a fireworks display held on the Place de Grève (now Place de l'Hôtel-de-Ville) to celebrate Napoleon's coronation in 1804. To symbolise Napoleon's crossing of the Alps in 1799, an artificial Mont St Bernard was built on the Place de Grève (a square where public executions were carried out). Troops march up the 'mountain', on which is a huge figure of Napoleon on a rearing white horse, based on David's famous painting. An illuminated warship sits on the Seine and a crowd watches from the far bank of the river. [Ref: 58265] £390.00
[Arch of Septimus Severus] Arco di Settimio Severo. Piranesi Architetto fec. Presso l'Autore a Strada Felice ne; palazzo Tomati, vicino all Trinità de'monti. A paoli' due e mezzo. [n.d., c.1770.] Etching, 18th century watermark. 380 x 590mm (15 x 23½"), with large margins. Splits in upper and lower centre fold repaired. Very slight repair left side on arch. A view of the Arch of Septimus Severus in the Roman Forum, still half-buried. To the left is the Colonna di Foca (Phocas); to the right is the Chiesa Santi Luca e Martina martiri. First published 1759, this is an example of Hind's state iii of vi, a life-time impression (so pre-1778)m with Piranesi's address and price. Hind 54. [Ref: 58267] £980.00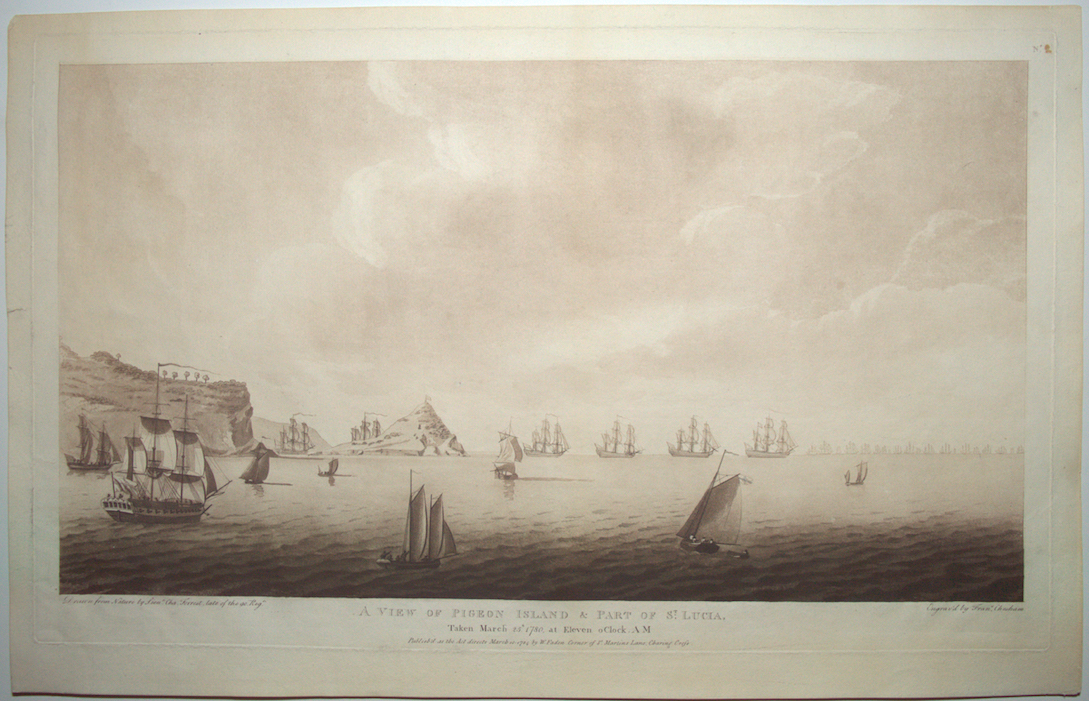 A View of Pigeon Island & part of St. Lucia, Taken March 25th 1780, at Eleven oClock AM. Drawn from Nature by Lieut. Chas. Forrest late of the 90 Reg.t. Engraved by Fran.s Chesham. Published as the Act directs March 10 1784, by W. Faden Corner of St Martin's Lane, Charing Cross. Scarce aquatint with etching printed in sepia, fine 18th century watermark. 300 x 510mm (11¾ x 20″), large margins. A view of British warships at St. Lucia, with a flag on Signal Hill on Pigeon Island (now joined to mainland by a causeway). Admiral Rodney made Pigeon Island his base, building Fort Rodney, because he could see the French navy on Martinique from Signal Hill. A month after Forrest drew this view Rodney fought the Battle of Martinique (17the April 1780). From the rare series 'Twelve Views of the Island of Saint Lucia' by Lieutenant-Colonel Charles Ramus Forrest (1750 – 1827). He was a British military officer who served in India, the West Indies, and on the staff of the Earl of Dalhousie, Governor in Chief of Canada, from 1821 to 1823. Although an accomplished amateur artist, Forrest's professional performance did not live up to Dalhousie's expectations and he was dismissed. He returned to England in 1823. His best known work is probably 'A Picturesque Tour along the Rivers Ganges and Jumna', 1824. Parker: Not in. [Ref: 58264] £650.00
Also online in September the catalogue n°119!