Stéphane Brugal's antiques
Comprehensive annotated  catalog of portraitist of Cornwall Dauchez's engraved artwork
©Stéphane Brugal – 2018
Stéphane Brugal, a historian by training, a graduate of the Institute of technical and historical studies of Objects of Art, discover  André Dauchez's work in the course of his career as a gallery specialist in artists who have succumbed to the charms of Brittany.
Through this book, Stéphane Brugal sheds light on the art of engraving by André Dauchez, who will become one of the great representatives of the first half of the twentieth century of etching technique.
This book is meant to be exhaustive and provides a working tool that will become a reference for all enthusiasts of the artist's work.
Seduced and influenced by the lines and the force of the landscapes, from Douarnenez bay to Belle-Ile-en-Mer, André Dauchez will succeed in transcribing the numerous forms,  the Brittany Cornwall takes: heaths, dunes, estuaries and pine-fringed coves, edges of coasts and rivers, rocks at low tide, were his favorite motives.
His works would have continued its wonderful vigor, these observations are in agreement with those in spontaneous, powerful and simplified  etching prints, reveal to us the excellent engraver and the great draftsman that he was.
With a fine point and a biting acid, André Dauchez expresses the strength and roughness of this Cornwall, but also its charm and diversity. From these striking contrasts of shadows and light, the artist brings out with a nervous trace the cutting of trees, the physiognomy of a shore, causing inside, a vibrating sensation of life.
Different effects are steadily produced as the subject turns in relation to the shade, to the sun or to the wind, which constantly upset the appearance of a landscape, showing us  how to capture the very essence of a subject like a genuine portraitist.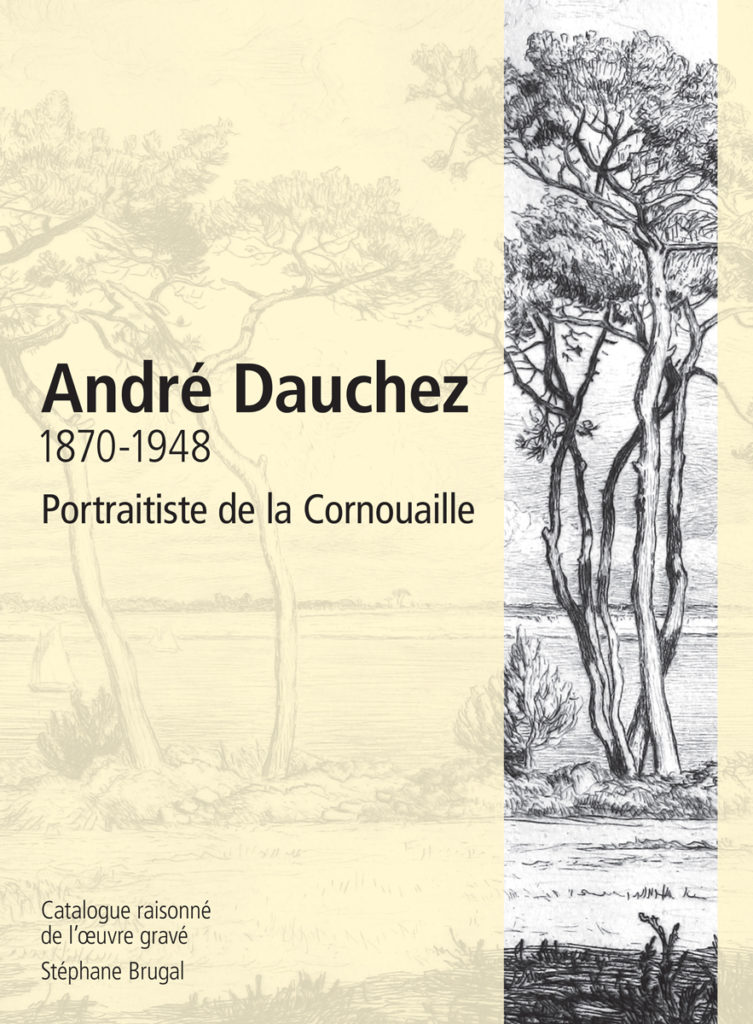 The catalog is priced at 35 € (+ 8 € by opting for delivery by colissimo shipping within 48 hours and protected bubble envelope) or contact us to order directly by email or mail at 4 Boulevard Darlu 44500 LA BAULE- France
Stéphane BRUGAL 06 89 15 56 55
www.brugal-antiquites.com