Publication of the gallery in December
Post War School of Paris Fine Art Collection, 1945-1999
Post War School of Paris Collection
300 pages, 21 x 30 cm, four-color process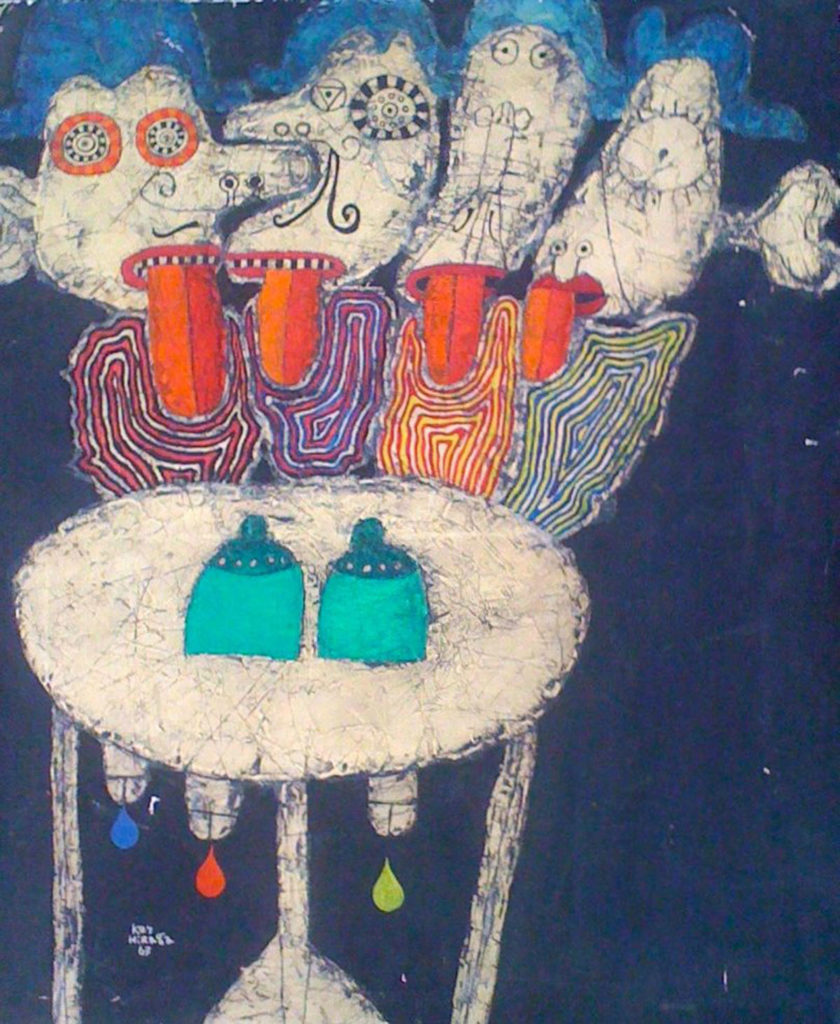 "The Elegant Life of Mr H", 65 x 54 cm, Oil on canvas –  Signature: Bottom left: "Key HIRAGA 1967".
In 1965, and  already a recognized artist in Paris , he entered  the  "japanese Ecole de Paris "   post-war period .
The painting above  refers to the best period of his work during which time, the art critic, Gérald Gassiot-Talabot (1929-2002), wrote in 1967 about Hiraga and selected him to become a member of the ORA Group. By  1966 he  was henceforth exhibited in "The Narrative Figuration", then in 1967 in the "ORA Group" at the Jacqueline Ranson Gallery in Paris.
This painting is displayed at the Galerie Lambert in Paris, at  the Jacqueline Ranson Gallery in Paris, and in 1970 at the famous exhibition "Erotissimorama" at the Galery Jacques Casanova in Paris.
In the 1970's, Hiraga exhibited in Holland at Rotterdam, in 1971 in Amsterdam and Haarlem and entered the Collection of the Frans Hals Museum in Haarlem.
Museums Collections
M.O.M.A, Modern Art Museum of New York
Frans Hals Museum, Haarlem, Hollande
Key HIRAGA Museum, Hakone Yumote, Japon
Musée Pompidou, Paris
Bibliography
– « Le Groupe ORA » Gérald Gassiot Talabot, Ranson Gallery, 1967
– Art International Volume 13, n°10, Décembre 1969
– Dictionnaire des peintres, sculpteurs et graveurs, (Dictionary of the painters, sculptors and engravers) Jacques Busse Editions Gründ, 1999
– The Elegant life of Key Hiraga : a Japanese artist in Europe 1965-1974 Mayor Gallery, 2008