Novelties at the Martinez D. Gallery, all about japanese engravings
Novelties at the Marinez D.Gallery, all about  japonese engravings: www.estampesmartinez.com

Paul JACOULET
Paris 1896 † Karuizawa (Japan) 1960
Winter Flowers, Oshima (Japan). 1955.
Color woodcut
Miles, n°240.
Typographic lettering in the lower margin and Japanese stamp in the right margin. Nice proof on watermarked Japan paper (Letters PJ), proof 36 from an edition out of 350 copies, bearing a red stamp in the shape of a tree and signed in grey pencil by the artist.
Margins. Fine state of conservation.
2 500 €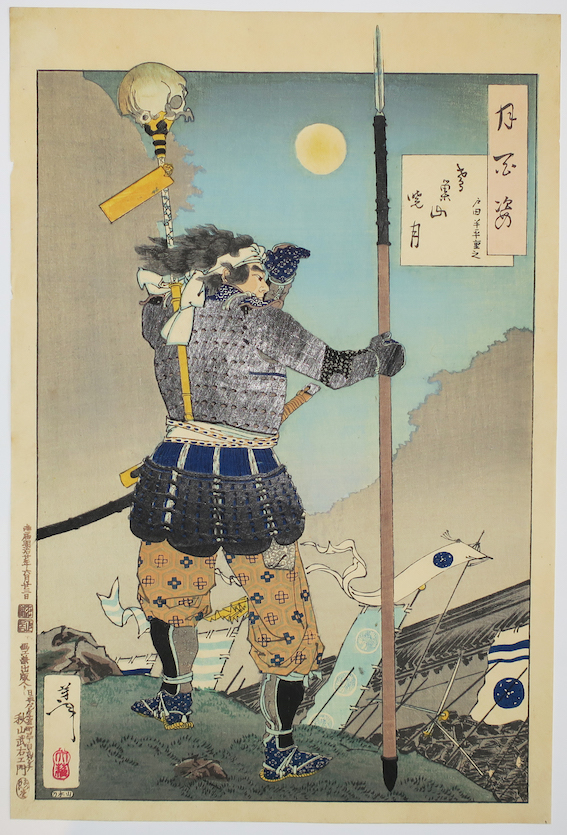 YOSHITOSHI Tsukioka
Edo (Tokyo) 1839 † 1892
Warrior looking at a battlefield during the full moon.
Color woodcut, on Japan paper.
Ôban tate-e. Signed "Yoshitoshi". Plate 52 from the series "Les Cent aspects de la Lune – one Hundred Aspects Of The Moon" (Tsuki Hyakushi). Very nice proof with margins.
This series of 100 prints was published in several rounds by Akiyama Buemon between 1885 and 1892. They represent the different phases of the moon, borrowed from anecdotes, historical events and mythology from Japan and China. In this composition, Yoshitoshi illustrates the great drama of the battle.
1 800 €