Les nus de Marcel Gromaire/ Marcel Gromaire's nudes, the Sagot – Le Garrec Gallery
Exhibition from Friday October 22 to Saturday November 27, 2021.
Opening from Thursday, October 21, 2021 from 1:00 pm to 9:00 pm.
The Sagot – Le Garrec gallery presents the exhibition Les nus de Marcel Gromaire/ Marcel Gromaire's nudes with a set of prints and drawings.
The theme of the female nude was chosen because it remains the most represented in the artist's etchings as well as in his pen and ink drawings. Among his 245 engravings, more than fifty are female nudes.
At first glance, we are struck by the unity and continuity of his work.
Nevertheless, his favourite period for nudes is the 20s and 30s, which many consider to be his Cubist period.
In Gromaires' nudes, the play of lines, curves and circles does not only aim at the geometrical fullness of bodies but also, through the luminous atmosphere, the coherence of the volume in space, unstable balance of the conjunction of its sensuality and its ordering reason.
We are struck by the instantaneous immobility of a body moving in space as if it had frozen time, where the play of strongly accentuated and contrasting curves and counter-curves, chopped up with straight lines, stigmatised with triangles, like a writing of a gaze that the reader can make his own.
Marcel Gromaire's quest is the methodical enrichment of his gaze where the mediator is the woman he knew sublimated in her sole carnal truth by giving her body a magical realism.
With the aim of celebrating the nude, camped in singular attitudes, the pure line, the harmonious balancing of rhythms and the softness of light/shadow relationship, everything contributes to making his graphic art a pleasure, where intelligence and sensitivity are mixed.
Visual 1 : Marcel Gromaire. Nu au fauteuil courbe / Nude in a Curved Armchair . 1928. Etching. 237 x 178 mm. Gromaire 75.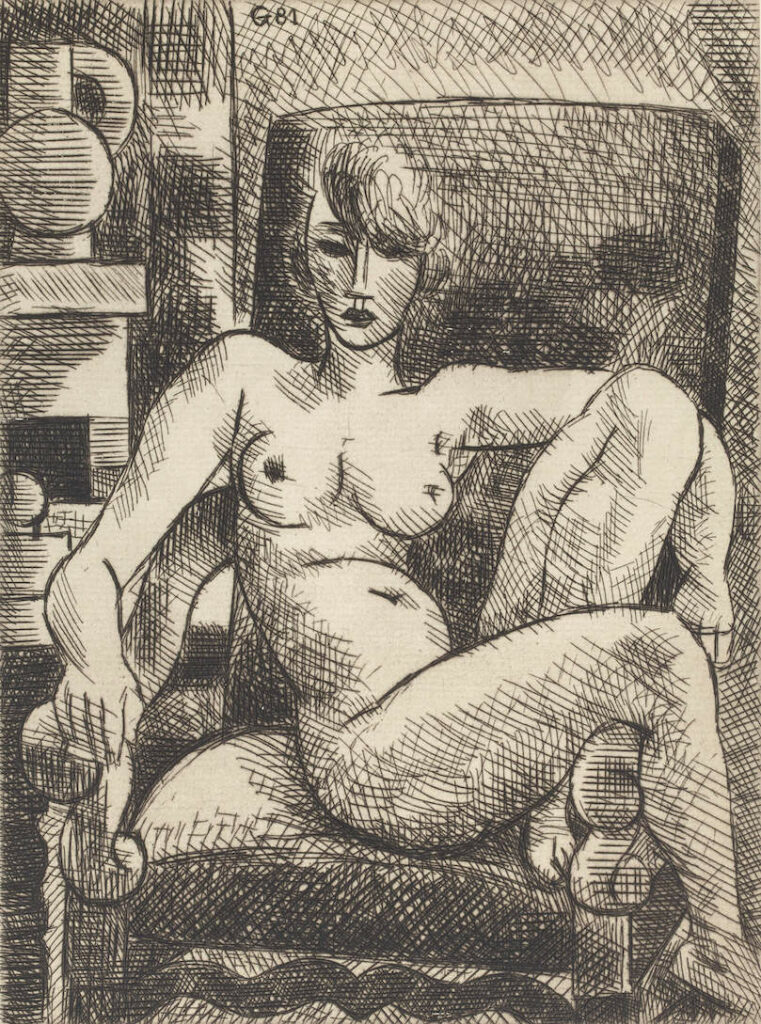 Marcel Gromaire. Nu au fauteuil ancien / Nude Seated in a Antique  Armchair. 1928. Etching. 237 x 177 mm. Gromaire 81.