Latest catalog, february issue, the Martinez D. gallery
The Martinez gallery invites you to discover its newest N°XXVIII catalog:
http://www.estampesmartinez.fr/images/PDF/CATALOGUE%20XXVIII%20Liste.pdf
http://www.estampesmartinez.fr/index.php/nouveautes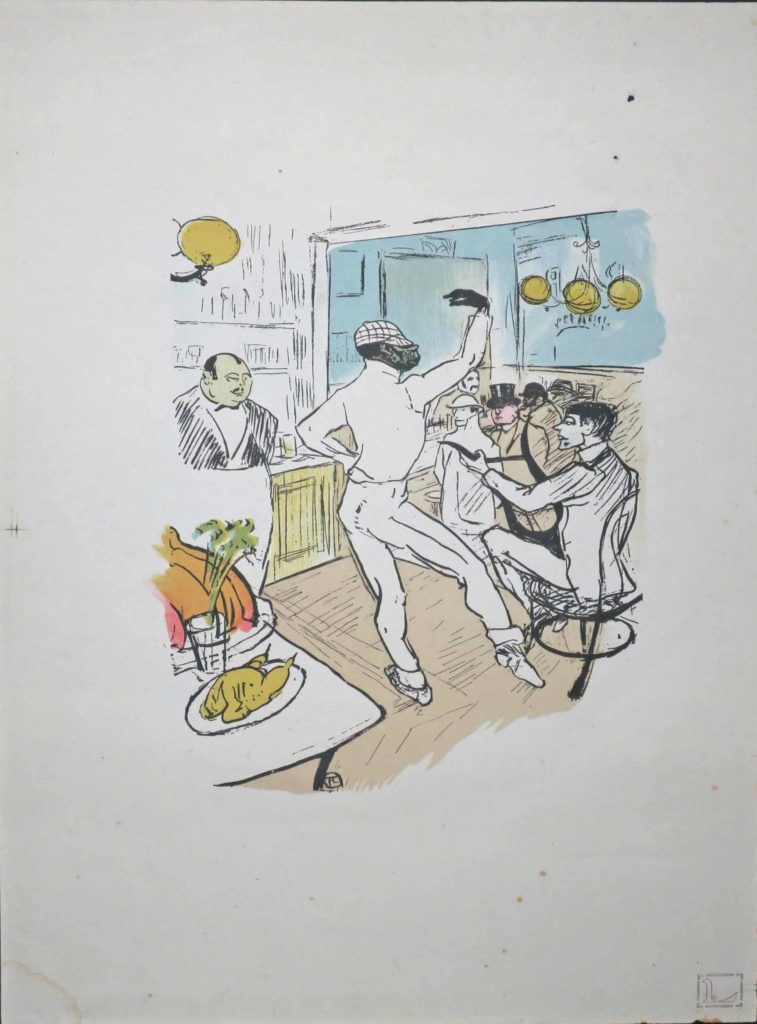 Henri Marie Raymond de TOULOUSE-LAUTREC
Albi (Tarn) 1864 † Gironde 1901
– Chocolat dansant dans un bar. c.1896. H420xL315mm. Lithograph original Lithograph, color print on China paper;
Graphic work by Toulouse-Lautrec, BNF, 1951, n°129.
This edition is one of "the Rire "publication plates that were reprinted on China paper at Gougg's in 1910 under the title of "Album de lithographies en couleurs" (Thirty-five series were printed, then, the plates signed with artist's monogram, inscribed in the lower left corner in the composition).
Rafael Padilla, known as Chocolat was a circus artist whose partner has been said to be the white clown Tudor Hall, known as Georges Footit (1864-1921). The famous Chocolat (here in the middle of a dance) showed great devotion for this establishment. After his performance at the New Circus, he used to come there to quench his thirst with his partner Footit. Occasionally, Chocolat would dance… Lautrec was frequently the last customer to leave the bar. This topic was intended to illustrate the« Le Rire » magazine where it appeared in the 73 issue of March 28, 1896. This newspaper, founded in 1894 by the painter's friend Arsène Alexandre, published caricatures willingly subversive, and Henri de Toulouse-Lautrec provided 18 illustrations for the magazine between 1894 and 1897, sometimes evoking Montmartre styles or distractions from elegant Parisian neighbourhoods.
Gabriel SALMON
A little known French engraver, Born in Lunéville and active circa 1504 and 1542.
– Hercule capturant Cerbère/ Hercules Capturing Cerberus . c.1528. H200xL150mm. original wood. Formerly laminated on strong  paper.
Plate of the series "The 12 Labors of Hercules ". signed with artist's monogram, in the lower left corner in the composition.
Small-margin proof bearing on the back the Jean Ehrmann's collection mark.
(Épinal 1902 †Paris 1984), engineer and Art historian in Paris, Lugt 3581.