Drawings by André Masson, The Coin des Arts gallery-Le Marais
From Saturday 10 July to Saturday 17 July.
The Coin des Arts-Le Marais is pleased to present a temporary hanging art of drawings by André Masson (1896-1987), both companion and rebellious figure of Surrealism.
The artist lived through the torments of the 20th century; left for dead on the Chemin des Dames battlefield in 1917, he miraculously escaped. In 1924, he joined André Breton's surrealist movement, and later the movement of Georges Bataille, with whom he shared a terrible questioning about cruelty.
In 1940, he joined the United States, Masson was then one of the most influential European artists in exile, especially serving as a reference for Jackson Pollock (1912-1956) or d'Arshile Gorky art(1904-1948).
Masson's work is an art of mouvement and   life, Illustrated by this artist quotation: it is Dionysiac. Resulting from the former collection of Roger Passeron, Masson's friend and his demanding taste.
The six drawings in our hanging art take us into the artist's world. A world populated by living beings, landscapes, and often mysterious and powerful signs.
We would also like to present a beautiful series of original lithographs by Masson, who was an outstanding engraver. Illustrator of many books, engraving remained for him an important field of artistic research.
Our hanging art will also be the occasion to show three works illustrated by Masson : the famous Sonnets by Louise Labé, a great poetess of the 16th century, who wrote about love, the two volumes of L'Espoir by Malraux, and the volume of Conquérants, also by Malraux.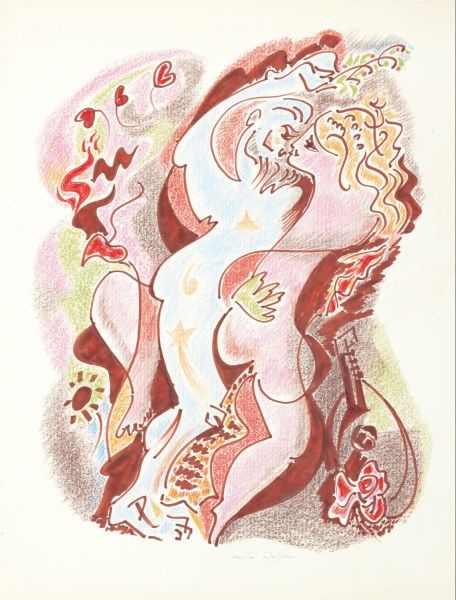 Untitled, pastel and felt tip pen on paper, 1972. Former Roger Passeron's collection.
Dimensions: 65 x 50 cm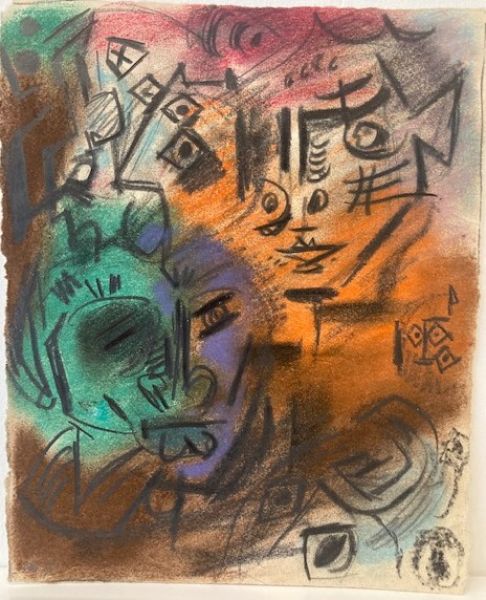 Untitled, pastel on paper, 1948. Former Roger Passeron's collection
Dimensions: 28 x 23 cm