Catalogue n°110, Grosvenor Prints
We have the pleasure in sending out our new Catalogue 110; a listing of over 300 items. It includes portraits, topography both Foreign and UK, Sports and Pastimes such as fishing, some Americana and satire including George Hunt.
Some highlights include.
Cover image:
A Representation of the Royal Fire-Work perform'd by the directions of Coll. Hopkey and Coll. Borgard on the River of Thames near Whitehall, y.e 7.th of July 1713. being y.e day appointed for a publick Thanksgiving for the General Peace.
B. Lens fec. et exc.
[n.d. 1713]
Extremely rare & fine mezzotint. 520 x 410mm (20½ x 16″). Trimmed to plate mark. Horizontal centre fold crease with minor creasing and scratches across the image. Small nicks to the edges. Loss to bottom left corner filled in with ink.
An architectural facade of paired columns adorned with statues and the royal crest. Fireworks burst into the sky in the background as well as on the Thames in the foreground. The statues take the allegorical form of Prudence, Temperance, Fortitude, Justice, Courage, Victory, Peace and Conduct. The year of peace, or Anno Pacis, refers to the Peace of Utrecht signed in April 1713 by Queen Anne, Louis XIV and Philip V of Spain.
[Ref: 56467] £950.00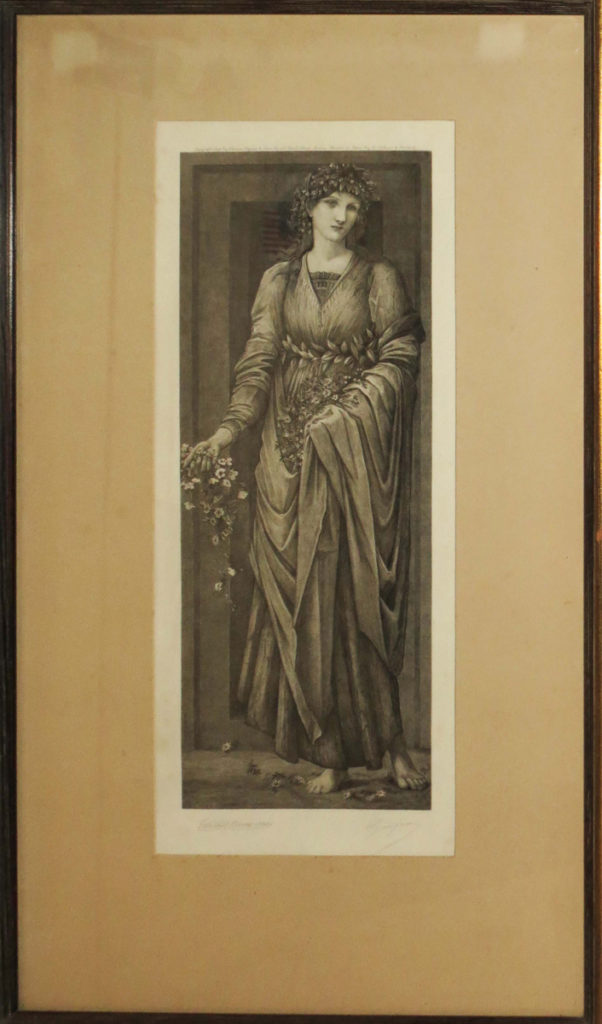 [Flora.]
Edward Burne-Jones. Gaujean [pencil signatures.]
Copyright 1894 by Thomas Agnew & Sons, 39 Old Bond Street, London. Printed in Paris by A. Salmon & Ardail.
Proof etching, signed by artist and engraver. Framed, sight size 480 x 195mm (19 x 7¾"). Unexamined out of frame.
A full length female figure, etched by Eugene Gaujean (1850-1900) after a design for a tapestry by Sir Edward Coley Burne-Jones (1833-98) for William Morris.
[Ref: 56456] £1,250.00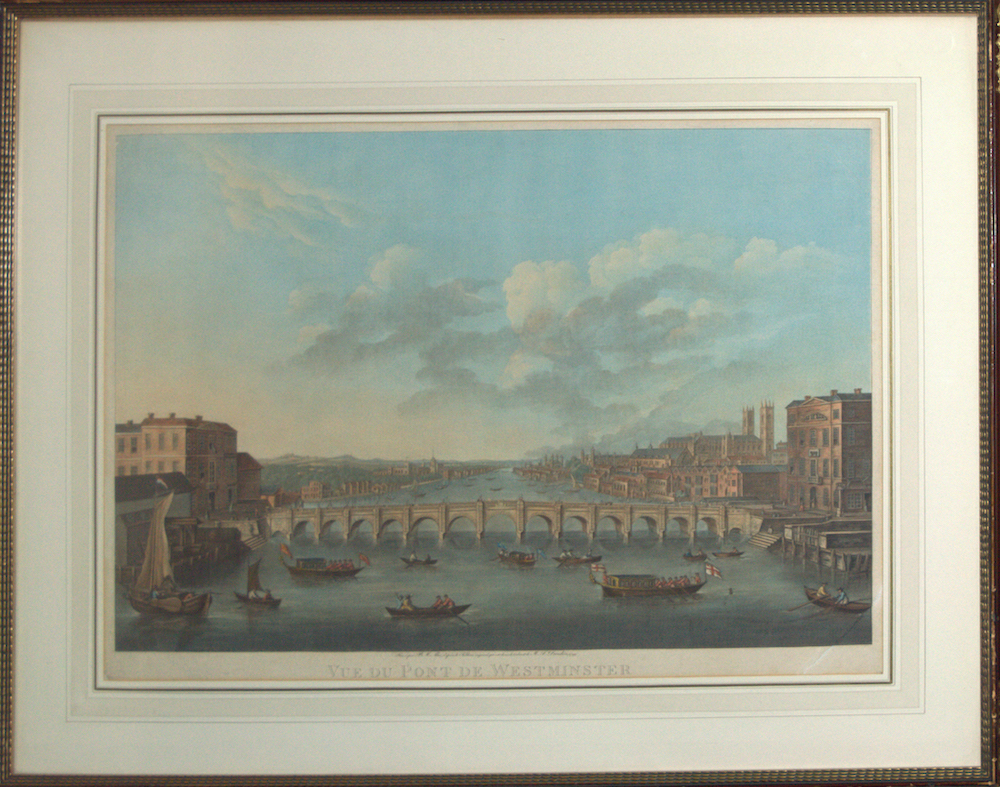 Vue du Pont de Westminster.
Grave par P M Alix, d'apres le Tableau original, qui est dans le Cabinet de M. F. Drouhin, 1799.
Framed coloured etching with aquatint. 645 x 840mm (25½ x 33″). Unexamined out of the frame.
A view of the Westminster Bridge after an anonymous painting from Marie Francois Drouhin's collection. Pierre-Michel Alix (1762-1817) was a French engraver who studied under Jacques-Philippe Le Bas and was best known for his portraits of notable figures during the French Revolution and First French Empire. A wonderful example of French colour printing.
[Ref: 56496] £2,300.00
The full catalogue can be found here: Catalogue n°110