Berny Sauner, the baudoin lebon Gallery
FROM DECEMBER 9, 2020 TO JANUARY 16, 2021(CLOSED FROM 12/20 TO 01/04/21)

In the heart of the Marais, at 42 rue de Montmorency, 75003 Paris.
The " Metaforms" series cultivates energy, in all its forms. A vital energy with its flows, its speed, its emptiness, its contrasts. its gestural and instinctive painting springs from the sum of its experiences, it favours graphic proportions with fiery colors and open rhythms. In doing this, it fixes movement, fleeting moments, life. When it comes to material, its work proposes a particular grammar. Its canvases like so many calligraphic and chromatic variations, are incessant variations where the lines are rolled up, stretched, pushed back.
In this series, Berny is simultaneously looking for the release, the slackness in the execution.
The intuitive, sometimes random, allows him to maintain a vulnerability, the feeling of being alive. Both solid and precarious, Metaforms implies, disturbs and questions the viewer. Like an uninterrupted firework display, Berny's painting bears witness to the fire that devours his ever-revolting spirit. Years at the head of his design agency have given Berny a determination and attention to detail. From his past as a graffiti painter, he retains the amplitude of the gesture, the flowing line, the striking, lively rhythm. Vitality and speed are essential in his work! For Berny, each canvas traces a breakaway, the experience of a gaze that ventures beyond constraints and frames. Between the space inside and the space outside, energies circulate.
Berny-Sauner Balade / stroll 2020 Metaforms, acrylic and ink on canvas, 120 x 150 cm ©François Roelants courtesy baudoin lebon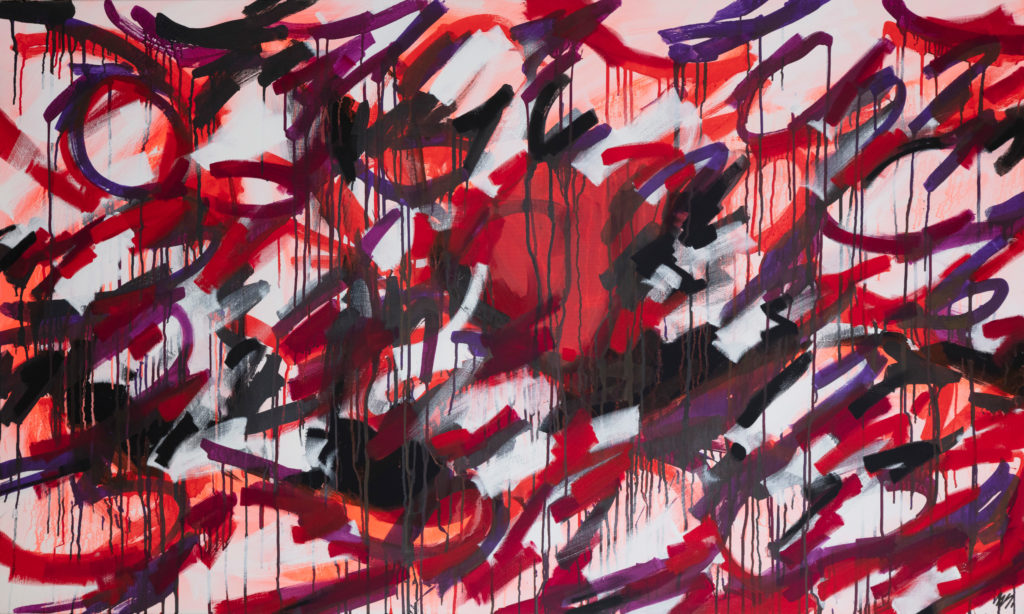 Berny-Sauner Face-à-la-fournaise / facing the furnace, 2020 Métaforms series, Acrylic and ink on canvas.
97 x 161,5 cm ©François Roelants courtesy baudoin lebon