Notre Dame de Paris – Exhibition, The Sagot – Le Garrec Gallery
The  Sagot – Le Garrec gallery presents until July, 10, the Notre Dame de Paris exhibition with a collection of prints by various artists from the 19th century to the present day.
On the Île de la Cité, the ancient cradle of the city of Paris, the land of the Parisii, "the head, the heart and the marrow of Paris" as already mentioned by the chronicler Gui de Bazoches in 1190, upon which the Notre Dame de Paris cathedral stands.
Since the 13th century, the gothic building has witnessed the daily life of Parisians. Like water passing under the bridges across the Seine, Notre Dame has seen days, decades and centuries pass by. It is the great wide open book of Parisians. After each fire, each destruction, during each reorganization, mankind has always wanted to leave its mark.
From the laying of the first stone to the present day, Notre Dame de Paris Cathedral has stood out as a symbol of architectural prowess but above all as the mother of a constantly buzzing city, of Parisian people who have built it over centuries and who bear it in their hearts.
Since its creation, Notre Dame has been admired by Parisians, travelers, visitors and artists alike.
The exhibition is structured around a selection of prints in which the cathedral rises above the signatures of artists such as Charles Meryon, Auguste Lepère, Henri Rivière including Henri Matisse or Marc Chagall. The lithographer painter Henri Rivière places a white veil over Notre Dame from the towers in the middle of a snowy landscape and echoing Auguste Lepére's woodcut, a panoramic view of Paris under the snow seen from the towers of Saint Gervais.
On the occasion of the exhibition, a set of 6 engravings by Takuji Kubo is presented as a tribute to the cathedral. Japonese artist, Takuji Kubo travelled to Paris in the late 1990s, during which he visited Notre Dame de Paris, taking photographs and making drawings, as preparatory work for the execution of final engravings.
Each artwork is linked with an era and the artist's subjective vision : Matisse sketches the cathedral silhouette with a line, Marcel Gromaire freezes a cubist vision of the Ile de la Cité, Albert Marquet depicts the Cathedral in the Paris of the 1920s or the dreamlike vision of Notre Dame by Jean-Michel Mathieux-Marie.
These are the numerous and intimate relationships between a place, a monument, an era and an artist that can be discovered until Saturday, July 10, 2021.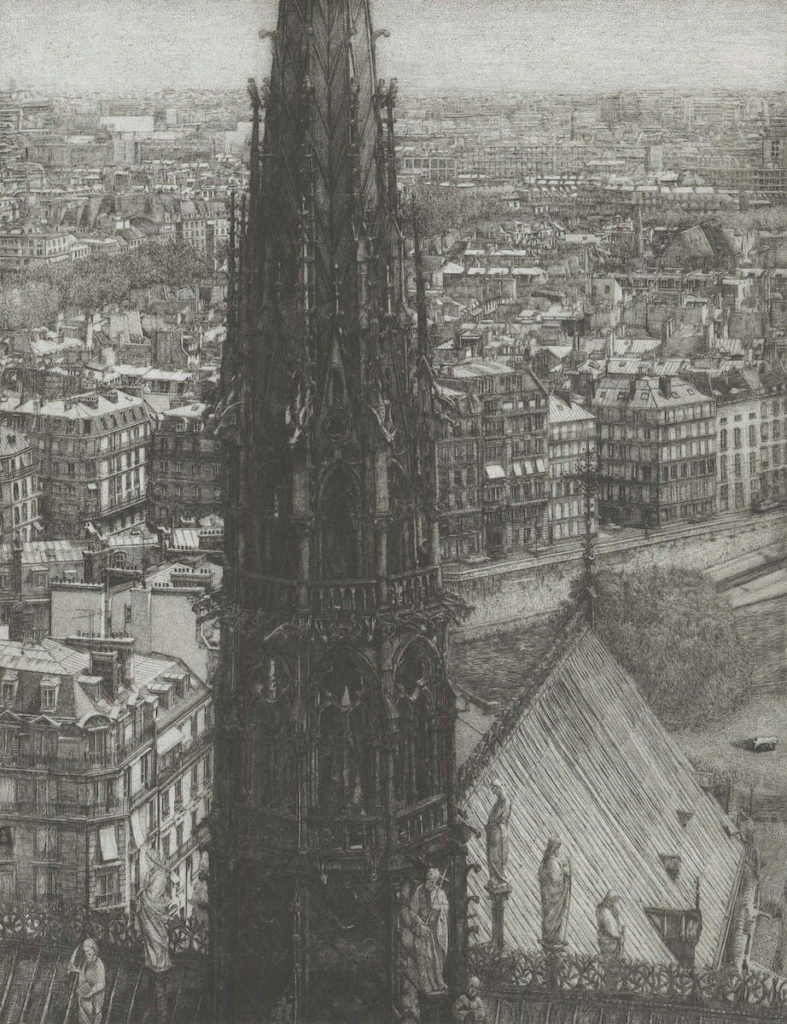 Takuji Kubo. Notre Dame, the spire (la flèche). 2021. Engraving. 318 x 244 mm. Proof on antique laid paper.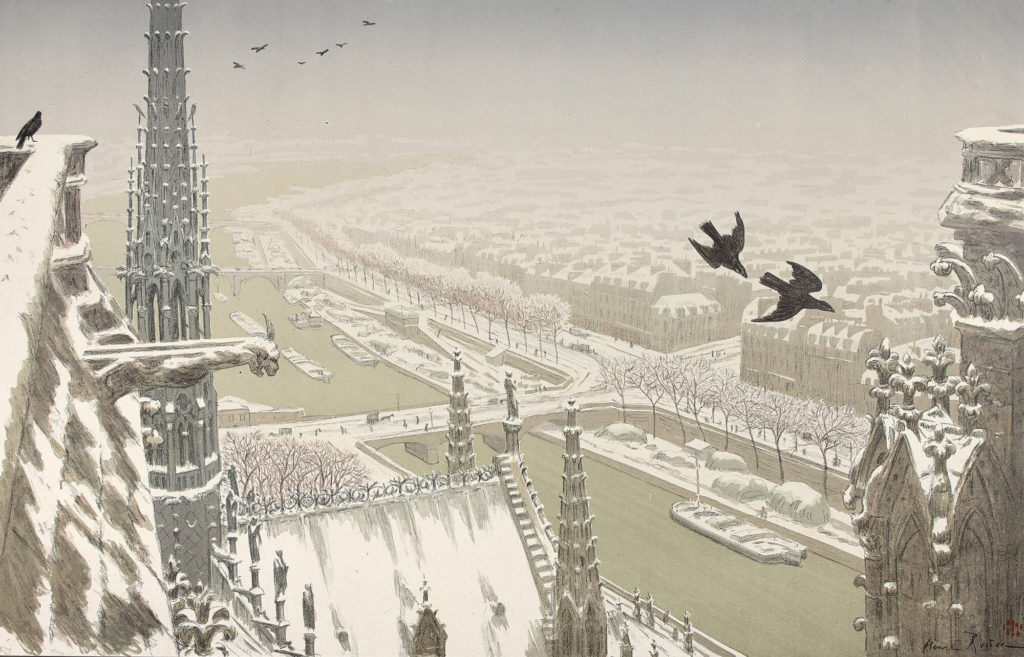 Henri Rivière. Du haut des tours Notre Dame. 1900. Color lithograph. 523 x 820 mm. Rare proof signed on unglued china paper.