Linocuts & Pastels by Lise Follier-Morales, the Sagot Le Garrec gallery
Exhibition from Friday October 14, 2022 to Saturday November 19, 2022
Nicolas Romand and the Sagot Le Garrec gallery present Lise Follier-Morales' exhibition Variations on transparency with a set of linocuts and pastels.
In her engraved work, Lise Follier-Morales proceeds series by series. With "Variations on transparency", the artist seeks to retranscribe with emotion the transparency of glass, as much in the reflections of the glass as in those projected by their shadows, like the colors of flower bouquets.
In this series, the printmaker becomes a virtuoso of the reductive plate linocut technique.
Using a single matrix, this technique enables superimpositions and juxtapositions of colors, but it imposes the technical feat and necessity of multi-layered color passes (7 up to 19 ) .
This emotion is reinforced by her research on ink components to fluidify them in order to achieve the aim intended, transparency.
In her creative process, Lise Follier-Morales works systematically in a musical universe that takes on its fullest meaning in this series : to the sound variations correspond the chromatic variations in all their tints and shades.
For this reason, the works are titled as musical works.The musical emotion is matched by the emotion of flower colors in minerality from the glass.
Initiated with 8 small formats, the series 'Variations on transparency" includes 70 large formats and will let you appreciate a unique collection at the Sagot Le Garrec gallery.
Bibliography :
Lise Follier-Morales, the crossing of appearances by Laurence Paton, in Art and Trade Book Publishing, n° 352, September-October 2022, pages 49 to 55.
Visual above: Lise Follier-Morales. Music by Vivaldi, Fac ut ardeat. 2021.Color Linocut. 205 x 287 mm.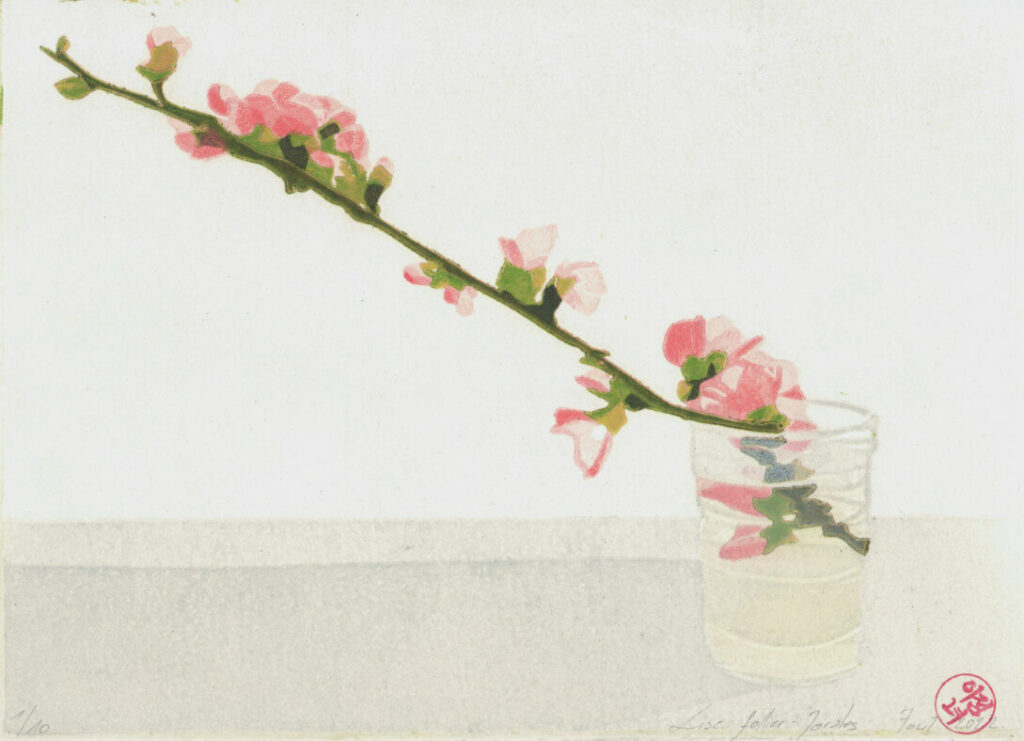 Lise Follier-Morales. Boxing ring end game – Music by Arthur H : La boxeuse amoureuse/ The female boxer in love.. 2022. Color Linocut. 208 x 285 mm.