An evening at the Roybet Fould Museum in Courbevoie: «Théodule Ribot- engraver: the printing kitchen boy» on Thursday 14 March 2019 from 6pm to 7pm, lecture by Hélène Bonafous-Murat, Expert in old Master and modern prints, member of the National Company of Experts.
Théodule Ribot has the charm of a little master who was trained by apprenticing with the Great Masters (Rembrandt, Chardin). He borrows his subjects from the world of cooks and marmitons, humble and laborious people, participating in a Social Realism that was then being developed. First, he resorted to lithography, then he became part of the renewal of etching technique, within the Society of Aquafortists founded by Alfred cadart, surrounded by prestigious engravers such as Manet, Jongkind and Bracquemond. We discover in his writing, a singular and endearing engraver as well as his painting.
Ribot, Les Éplucheurs, etching.
Free admission, reservation is highly recommended , limited seating available / 01 71 05 77 92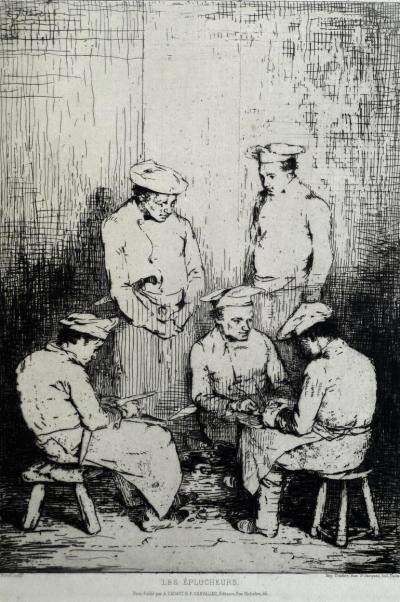 Ribot, Les Éplucheurs, etching