Latest catalogue, the Nathalie Motte Masselink gallery
A Must-see in our gallery latest catalogue !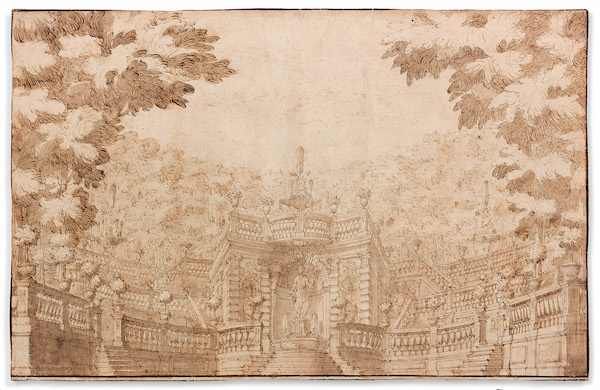 Giovanni Antonio Paglia
Active circa 1740
Stage scenery : Elaborate fountain with multiple stone balustrades and stairs in an italian style garden.
Pen and brown ink, brown wash, within brown pen and ink framing lines.
267 x 413 mm
Giovanni Antonio Paglia is a painter of theater sets and an architect. He worked in Reggio, Padua andTurin and took part in the  realization of the theater ceiling decoration in Cittadella in 1741. The arrival of the Bibiena brothers in Reggio between 1688 and 1696 had a decisive influence on his work. Our drawing bears witness to this influence. The multiple points of perspective and the profusion of decorative elements,  along with the abundant vegetation evoke Ferdinando Bibiena's drawings.
Charles-Nicolas Cochin
Paris 1715 – 1790 Paris
L'Opinion, l'Entêtement, l'Incertitude /
Opinion, Stubbornness, Uncertainty
Red chalk
94 x 54 mm
Our drawing provides a useful insight into the artist's creative process for two illustrations published in the '"Almanach iconologique " .
These small books, published annually between 1765 and 1781,  contain a series of allegories accompanied by notes explaining their distinctive features.
Nicolas Cochin made ninety-eight preparatory drawings for the last eight Almanach illustrations. Cochin's book- illustrations are distinguished by the merging of several allegories, often antinomic, into a single image.