Latest catalog, the Martinez D. gallery
Publication of Old & Modern Prints in the gallery most current catalog.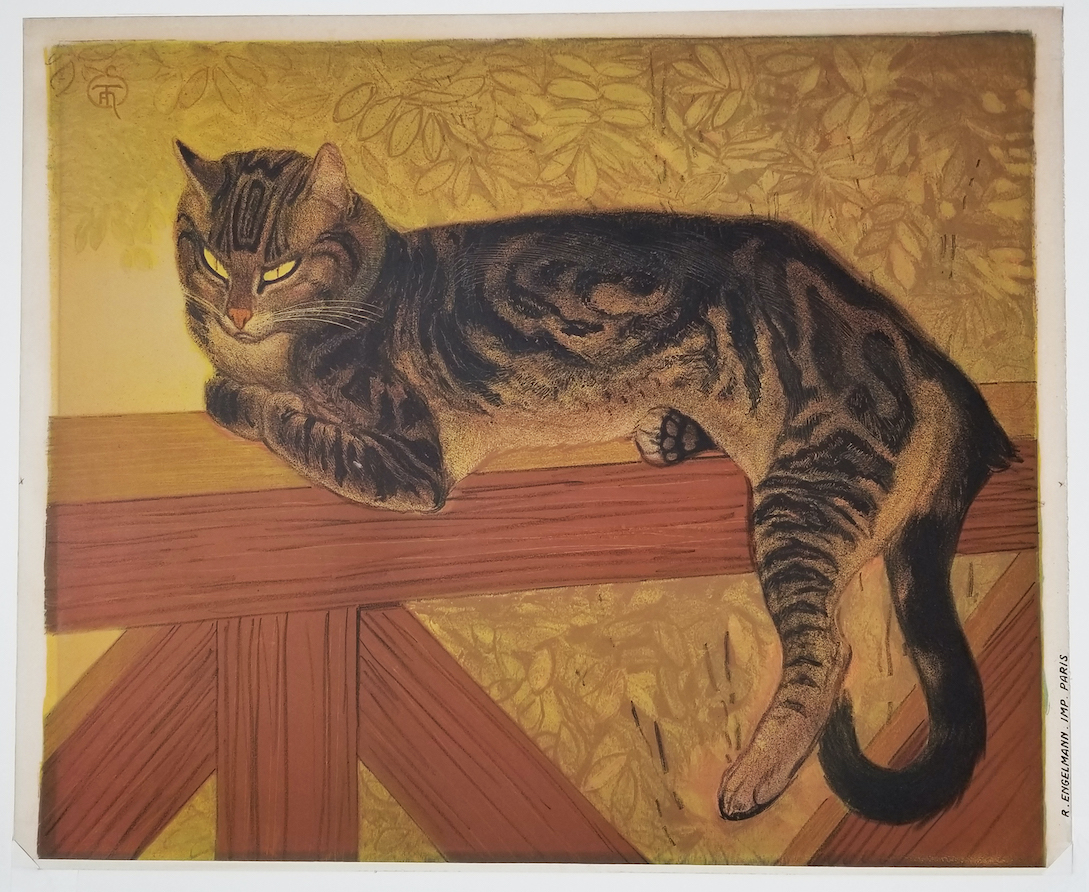 Théophile-Alexandre STEINLEN (Lausanne 1859 † Paris 1923)
– In summer, Cat on a balustrade. 1909.
Original lithograph, printed in colors. H512xL630mm.
Ref. : E. de Crauzat, n°292. Rare and beautiful proof on vellum mounted on cardboard, bearing the publisher's name, the registration marks and the artist's monogram in stone.
Printed by R.Engelmann. All margins.
3 800 €
The swiss-born Théophile Alexandre Steinlen was a real success in Paris, notably as a press designer and as a poster artist with a committed and humanist work.
He is without a doubt an "expert of cats", whom he untiringly draws, in all their fantasy ; players, sleeping or angry.…  Cats, according to Steinlen can be angels or devils depending on the circumstances. His models were, most notably figures of his own cats, housed in his rue de Caulaincourt home renamed « Cat's Cottage ». This daily familiarity undoubtedly explains the exceptional understanding of the animal of which Steinlen  offers true portraits,  from the black and evil cat of satirical images to the tabby cat of paintings and drawings, mellow and familiar. He dedicated many drawings, paintings, sculptures and engravings to Rodolphe Salis, director of the Montmartre review and cabaret Chat Noir…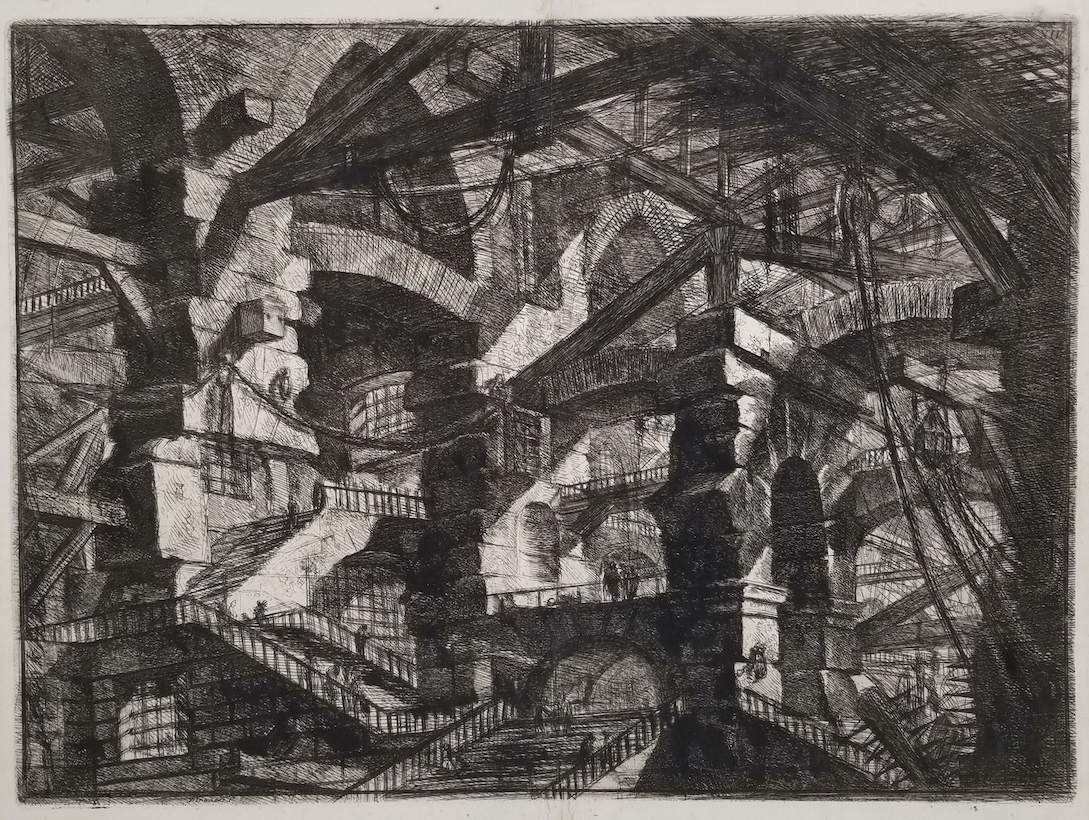 Giovanni Battista PIRANESI (Mozano 1720 † Rome 1778)
– The Gothic Arch. Carceri Series, Plate XIV "or Imaginary Prisons " by G. Battista Piranesi".
Original etching with burin technique. H415(475)xL547(630)mm.
Ref. : Robison, n°40. Signed "Piranesi F." Lower Left in plate, at the edge of the subject. Proof on watermarked laid paper (Large crowned shield), the 4th state of 6, with the number in Roman numerals (Second Roman edition, circa 1760-1770). Margins.
6 500 €
Focus on a plate from the famous and mighty series of labyrinthine prison interiors, entitled "Carceri " (Imaginary Prisons), sixteen etchings that formed Piranesi's views of architecture and construction tools diverted into torture devices. « Until the middle of the 18th century, prisons were housed in buildings that were not intended for that purpose, which made them uncomfortable and insalubrious. Gradually, thought is being given to prison architecture to build more functional prisons. Giovanni Battista Piranesi (1720-1778), an Italian printmaker and architect, had trained in structural  engineering and thus published  numerous architectural collections, Invenzioni di Carceri (1750) and Carceri (1761) that he transposes into his imagination, he invents strange and dramatic places with gigantic spaces, terrifying chains and wheels, dizzying perspective effects" (BNF).
In 1745, Piranesi began working on "Imaginary Prisons" when he was barely twenty-five years old, and continued to move between Venice and Rome. The date of the first edition of 'Prisons' is uncertain, probably around 1749-1750. This first edition contains fourteen plates. In 1761, Piranesi  published a second edition, reworked and completed with two additional plates.