Exhibitions Bernard Buffet, the Arenthon and the Institut galleries
the Arenthon gallery
Buffet froid, still lifes by Bernard Buffet
Exhibition from June 8, 2023 to July 22, 2023
As the season gets underway for picnics and barbecues, we invite you to the Buffet froid by Bernard to discover his latest collection of still lifes. Baskets of fruit, compote dishes, coffee pots as well as card games, Gitanes cigarettes and bottles of Suze, setting nonchalantly on a table corner that always seems to be the same.
Workaholic, living in his studio, Bernard Buffet repeated the pattern over and over again. Besides, he was heavily criticized for it. Visitors would feast their eyes upon so many pears on these table corners! ! But rather than simply repeating the same thing, isn't it a way of constantly confronting the subject, getting a better grasp of it, and finally extracting its essence?
It must be this black, sharp, angular line that sometimes generates rage, sometimes praise. Brightened up by highly coloured backgrounds, this line makes Buffet's style instantly recognizable. Adulated or hated, long-despised artist, Bernard Buffet leaves no one indifferent, and few artists arouse so much passion.
« Ne vous y fiez pas. Une nature morte de Buffet n'est morte que d'un œil et prête à mordre./ Don't be fooled. A Buffet still life is only dead in one eye and ready to bite. » Jean Cocteau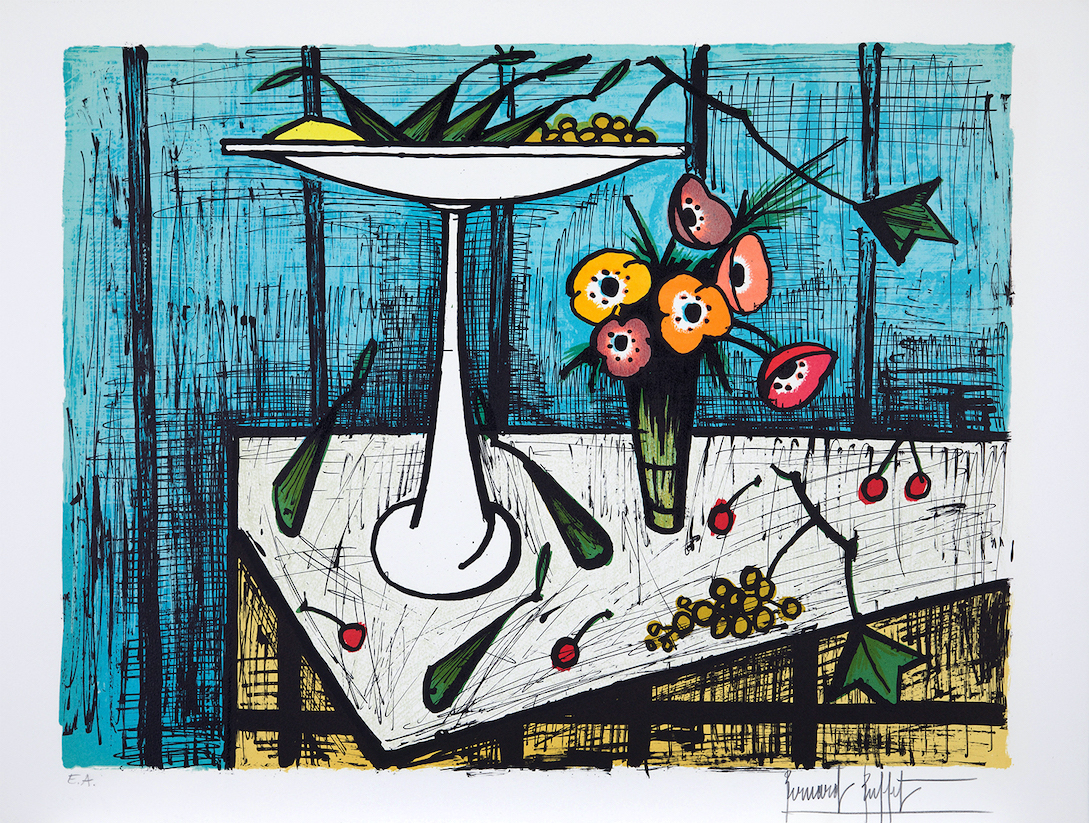 Image: Bernard Buffet, "Anemones and Fruits", 1984, Original lithograph, © ADAGP Paris 2023
the l'Institut gallery
Bernard Buffet and St Tropez
Exhibition from June 2, 2023 to July 22, 2023
Since the beginning of the 20th century, many artists have frequented this venue : Paul Signac, Henri Matisse and Pierre Bonnard among others. Saint-Tropez became more than just a source of inspiration for Bernard Buffet, where in 1958 he met the woman he would marry the same year, Annabel Schwob.
Twenty years later, the book "Saint-Tropez", was published, illustrated with 23 original color lithographs and a text by Annabel, calligraphed by Bernard. The exhibition features several preparatory gouaches for the lithographs produced especially for the book.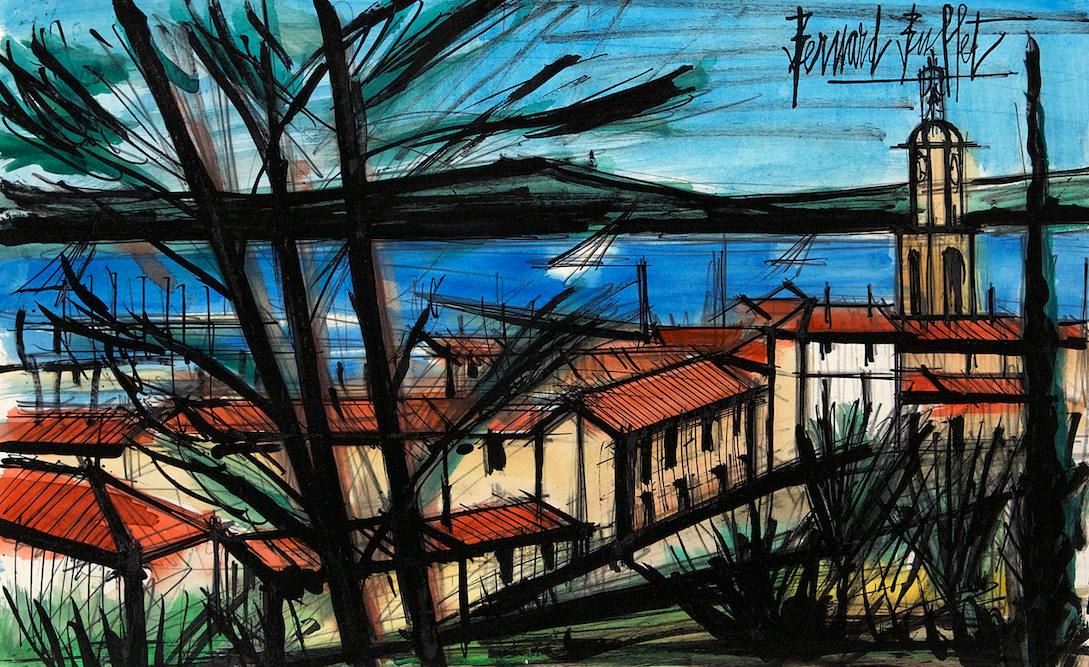 Image : Bernard Buffet, "Panorama de Saint-Tropez", 1979, Mixed media on paper © ADAGP 2023