Exhibition Farhad Ostavani, Documents 15 Gallery
FAHRAD OSTAVANI
" clouds, mountains, lemons"
From February 21st, to March 21st, 2020
For the third time and through the " clouds, mountains, lemons….." exhibition,  Documents 15 Gallery has presented the work of Farhad Ostavani, Iranian artist born in 1950 who lives and works in France. This exhibition brings together 3 series of unpublished work on very personal and evocative subjects of the Fahrad Ostavani entire work, his " clouds" were shaped in the Dordogne, where he resides part of the year and his iranien mountains embody a Journey made for the first time in 2017, after years of absence. All displayed works in the exhibition are unique works, whether they are drawings or widely enhanced unique works.
It led to the publication of a catalog centered around a text written by Jérôme Thélot.
A first part editing was done and coupled with an original Lithograph, numbered out of 30.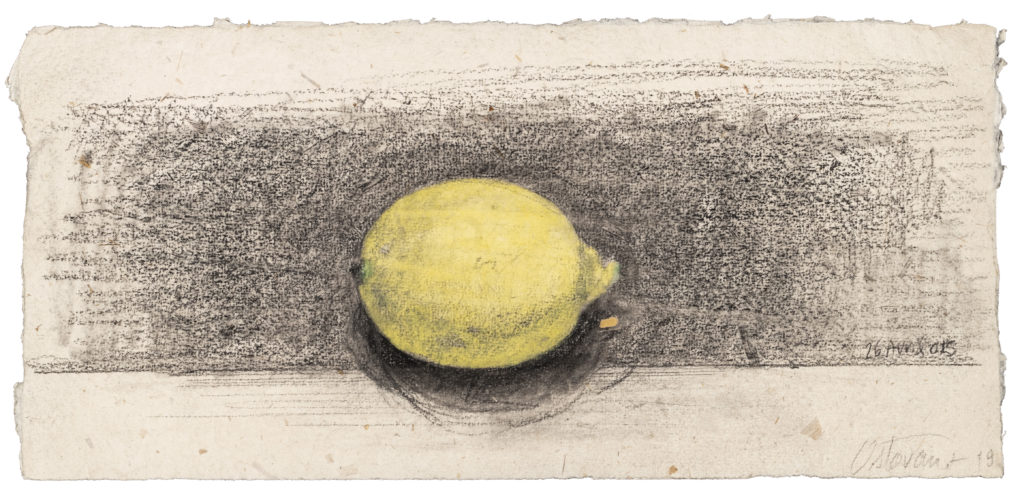 "Set of lemon" charcoal, pencil Watercolor on paper 14×30,5 cm
Photo J-L. Losi