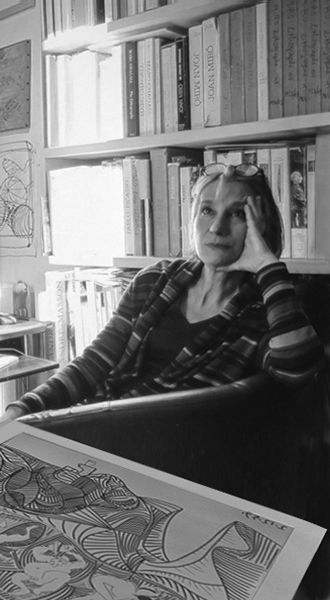 Michelle Champetier works exclusively through her five languages website, which has currently nearly 180,000 pages and receives, every day, more than 12,000 visits from more than 50 different countries.
Since January 2003, Michelle Champetier has chosen to practice her gallery business in Cannes,  by appointment. Rich of an experience of 35 years, 10 years of which were spent (1992-2002) in her own gallery in Nice, she mainly devotes herself to defending engraving Art (engravings, lithographs, silkscreen printing) but also drawing from the multiple (sculptures, ceramics) 20th century artists such as Picasso, Braque, Chagall, Giacometti, Miro, Chillida, Dali, Buffet, Sonia Delaunay, Matisse, Soulages or Tapiès (more than 800 artists are currently represented in gallery).
Her work is based on numerous professional links woven over time,  as well as extensive documentation made up of more than 500 comprehensive annotated catalogues devoted to prints, on a very important library of monographs and books about artists and auction catalogues over several years. Her reputation, her competence and her willingness to practice the most fair prices enabled her to build up an important and faithful customer base.
First and foremost, she considers her clients as  partners.