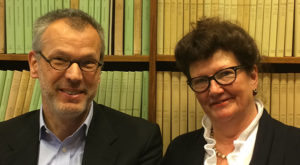 The gallery Helmut H. Rumbler was founded by Helmut and Petra Rumbler in Frankfurt in 1971. Today the gallery is housed in spacious rooms in the center of Germany's banking capital.
From the beginning the gallery has been focused on Old Master Prints of exceptional museum quality from the 15th to the 19th century.
During his tenure Helmut Rumbler published 49 scientifically researched catalogues.
Since 2016, when Helmut Rumbler passed away, the gallery has been run by Petra Rumbler together with Dr. Michael Weis, a long standing specialist in the firm.
The gallery continues its tradition of annually publishing richly illustrated and well researched catalogues with the help of its unique library built up over 50 years. For the purpose of establishing the highest quality level the prints on offer are often compared to similar examples in the leading international Museum Print Rooms.
Amongst its clientele the gallery counts international renowned museums, passionate and seasoned private collectors and young graphic enthusiasts worldwide.
For decades Kunsthandlung Helmut H Rumbler has been exhibiting at TEFAF Maastricht each spring as well as the International Fine Art Print Fair New York in the fall.