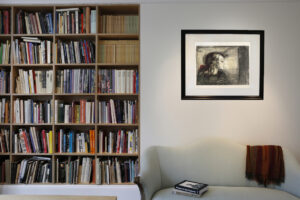 Established in 1971, Frederick Mulder Ltd specialises in original European printmaking from 1470-1970 and is one of the world's foremost dealers in the prints of Pablo Picasso and Edvard Munch. Based in London, our clients include major museums such as MoMA and the British Museum as well as private collectors and institutional clients. The gallery also works with unique works such as drawings, sculptures and ceramics by Picasso. Frederick Mulder Ltd. participates in the New York Print Fair.
We are private dealers and as such do not run an exhibition programme, however our expertise is dependable; our director, Anne-Françoise Gavanon has been commissioned by French national museums to write catalogue essays for their Picasso exhibitions.
In 1987, Dr Mulder, CBE, was one of the founders of the International Fine Print Dealers Association (IFPDA), with Frederick Mulder Ltd having been a member since.
In 2019, Anne-Françoise Gavanon was voted a Director of the IFPDA by its members. Frederick Mulder and Anne-Françoise Gavanon welcome visitors by appointment, and very much enjoy sharing their knowledge and love for prints.