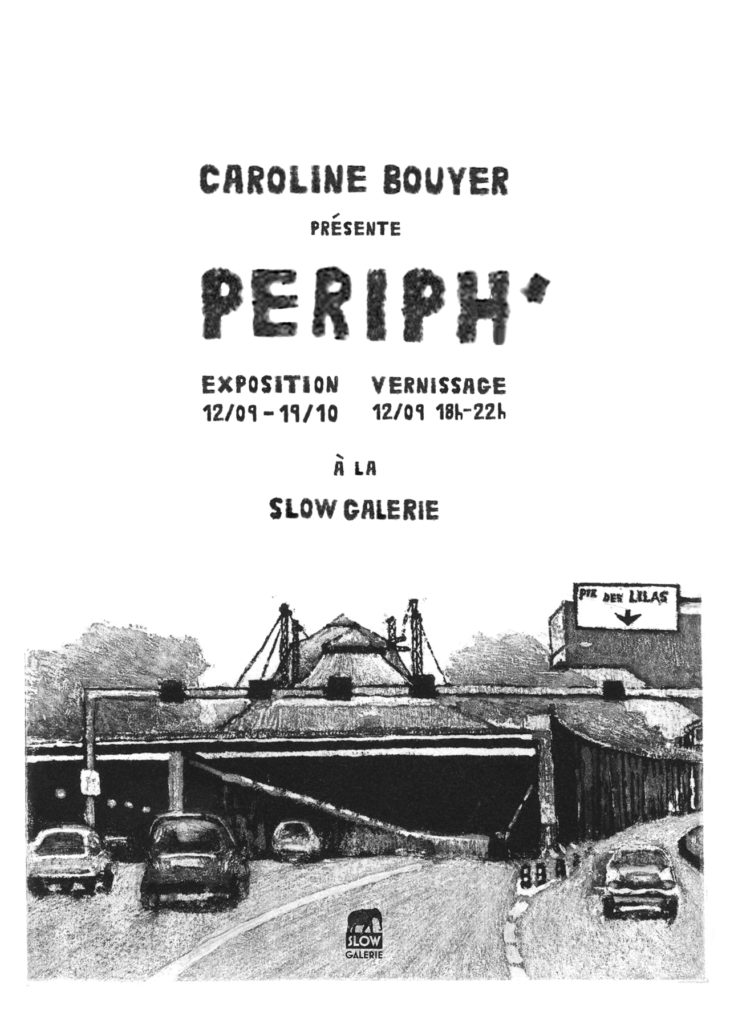 Caroline Bouyer exhibits 38 aquatint prints, 38 views of the Paris Ring Road – from September 12 to October 19 at the Slow Gallery, Paris.
Opening of the exhibition 12/09 – 6 pm to 10 pm
" In 2014, I became interested in the Parisian ring road, motivated by a desire to invest this place, porous border between two worlds, by trying to take an intimate and singular look at this belt that defines the edge of Paris. I took pictures and single types in the workshop of 38 distributors, the entrance and exit doors of the beltway and based on these research elements, I make and print my plates etched in aquatint. As I have already done in the past I accompany this graphic testimony of human testimonials in order to shed light on these architectural, economic and cultural upheavals and urbanization of a given space." Caroline Bouyer.
Teacher at Estienne School – École supérieure des arts et industries graphiques, Paris – Caroline Bouyer is a visual-engraving artist who focuses on the land and its transformations. For almost 15 years, she has been doing graphic work on urban territories, by addressing  memory and appropriation themes of places she frequents. A first work carried out in the Rives Gauche joint development zone (ZAC) of the 13th district was awarded in 2012 by the Prix Lacourière (Fondation de France-Bnf) and acquired by the Carnavalet museum and the Bnf( Bibliothèque nationale de France). A second series around Dunkerque Harbor and its industrial area (Arcelor Mittal among others) was realized by the artist in 2012/2013 during a stay in Gravelines, invited by the Museum of Drawing and Original Prints. This work has resulted in bringing into an exhibition and a catalog.
A few words about aquatint.
To produce an aquatint, the artist makes marks into the surface of the plate. Aquatint uses the application of a mordant (acid) to etch into the metal plate. Fine particles of acid-resistant material( such as powdered rosin) are attached to a printing plate by heating. The extent of the printed areas can be controlled by varnishing those parts of the plate to appear white in the final design and create tonal effects rather than lines. The acid eats into the metal around the particles to produce a granular pattern of tiny indented rings.The rosin is then washed off the plate, the plate is passed through a printing press and strong pressure applied pushing the paper into the marks, so that a transfer of the ink to the paper occurs.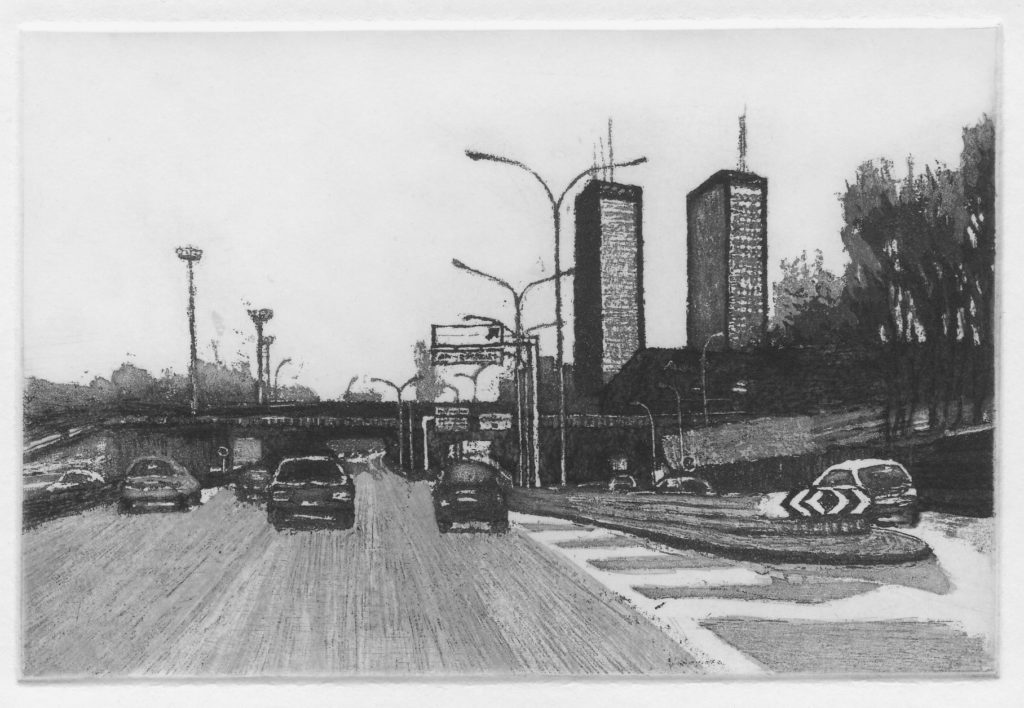 Caroline Bouyer, Porte de Bagnolet, aquatint, size 10x15cm, limited edition at 38