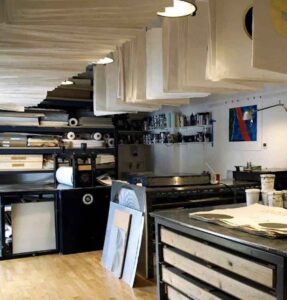 News: Upcoming art fairs in Spring 2022 which Stoney Road Press will attend:
EXPO Chicago – April 7-10
London Art Fair – April 20-24
Paris Print Fair –  May 19-22
London Original Print Fair – May 26-29
A chance encounter between David O'Donoghue and James O'Nolan at a gallery opening in 2001 led to a cup of coffee, conversation, and soon afterwards a new business experiment, launched on the premises of a former corner shop on the northside of Dublin. James came to the venture as a former director of Graphic Studio Dublin, tutor at the National College of Art & Design and master printmaker; David as trained printmaker, Dublin gallery owner and entrepreneur. Combining expert knowledge of printmaking processes with business and marketing acumen, Stoney Road Press has since emerged as one of Ireland's most innovative producers of limited edition fine artworks, its practice expanding from prints to publications and 3-dimensional works.
Emily Mark-Fitzgerald, Conversations and Collaborations, 2007.