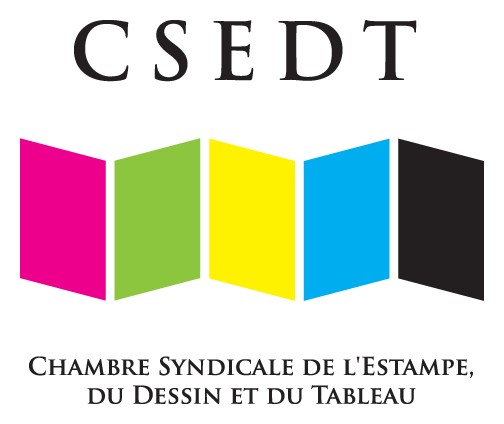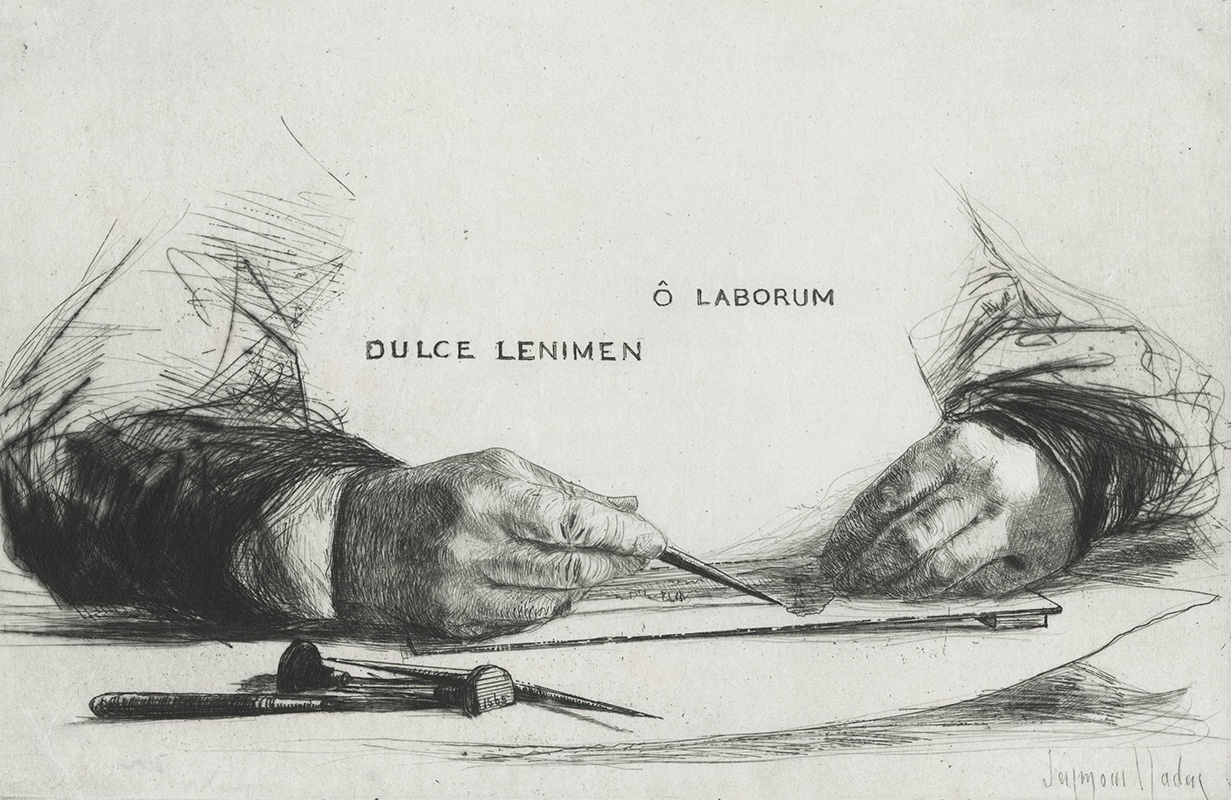 Newsletter CSEDT # 12

May 2021
In the siprit of miscellanies, discover information about the CSEDT in newsletters: novelties, exhibitions, fairs, catalogs. But also news primarily related to prints and drawings.
Created in 1919, the CSEDT - Chambre Syndicale de l'Estampe, du Dessin et du Tableau - is a professional union that brings together galleries and experts specialized in the field of the ancient, modern and contemporary prints.


Galleries can reopen from 19 May and we would be delighted to welcome you again. Many exhibitions to see, and so many more events to come ...
Do not hesitate to push the doors open!


Napoleonic, new catalogue n°108, Grosvenor Prints
Grosvenor prints has the pleasure in putting out our new Catalogue 108 in commemoration of the 200th anniversary of Napoleon's death.
This large listing of over 450 items contains; portraits of Napoleon and others, battle scenes, Waterloo, Views Overseas including political scenes of Napoleon, Saint Helena, Ephemera, Broadsides, Satire and a few decorative items.


Latest engraving catalog, the Sarah Sauvin Gallery
Publication of the catalog ESTAMPES, issue n°11 from the Sarah Sauvin gallery

To download and read from the website www.sarah-sauvin.com

Cover : détail from Jean CHARTIER (c. 1500 - c. 1580) : Jean Chartier sitting in his studio, burin


Dubuffet exhibition, galerie baudoin lebon
Dubuffet From May 5 , 2021 to June 30, 2021

« Man's need for art is absolutely primordial, as strong as, and perhaps stronger than our need for bread. Without bread, we die of hunger, but without art we die of boredom. » Jean Dubuffet

On the occasion of the opening of the gallery's new space at 21 rue Chapon in Paris, …


Latest exhibitions, Le Coin des Arts gallery
Le Coin des Arts gallery is delighted to see you from Wednesday, May 19th 2021 in our two spaces ; 6, rue de l'Echaudé 75006 Paris and 53, rue de Turenne 75003 Paris.


The exhibition of Muriel Moreau and Odile Frachet's work will resume from May 19 to June 5, from 1pm to 7pm.




1 rue La Bruyère
75009 Paris
Tél : 01 48 74 85 24


The 9th Festival of the print / Fête de l'estampe
This major event devoted to engraving, lithography, silk-screen printing and digital processes is a special time to celebrate printmaking in all its forms.

Why May 26 ? May 26 is the edict of Saint-Jean de Luz commemoration day, Since May 26, 1660, engraving has been legally considered to be an independent art.

La Fête de l'estampe/ the Festival of the Print : initiated on 2013 by Manifestampe - the National Federation of Printmaking allows a wide audience to discover this art in all its richness.

List of participants and full program through the link below:
www.fetedelestampe.fr


Weekend in contemporary lithography

With the involvment of JOËL RAMOS, CORA TEXIER, NICOLAS DRAEGER, MARTINE DE BAECQUE, LAURENT NICOLAÏ


The hanging exhibition we are presenting, was born out of the idea of sharing contemporary lithography. Each in his/her own way approaches this medium with generosity and singularity. It is important for all of us to express ourselves, to expose and defend our work to audiences.
It is an essential component of creation.....
Saturday through Sunday, we expect to give our different views on lithography. Demonstrations and prints on limestone and hand press, it is an invitation to discover lithography throughout the weekend.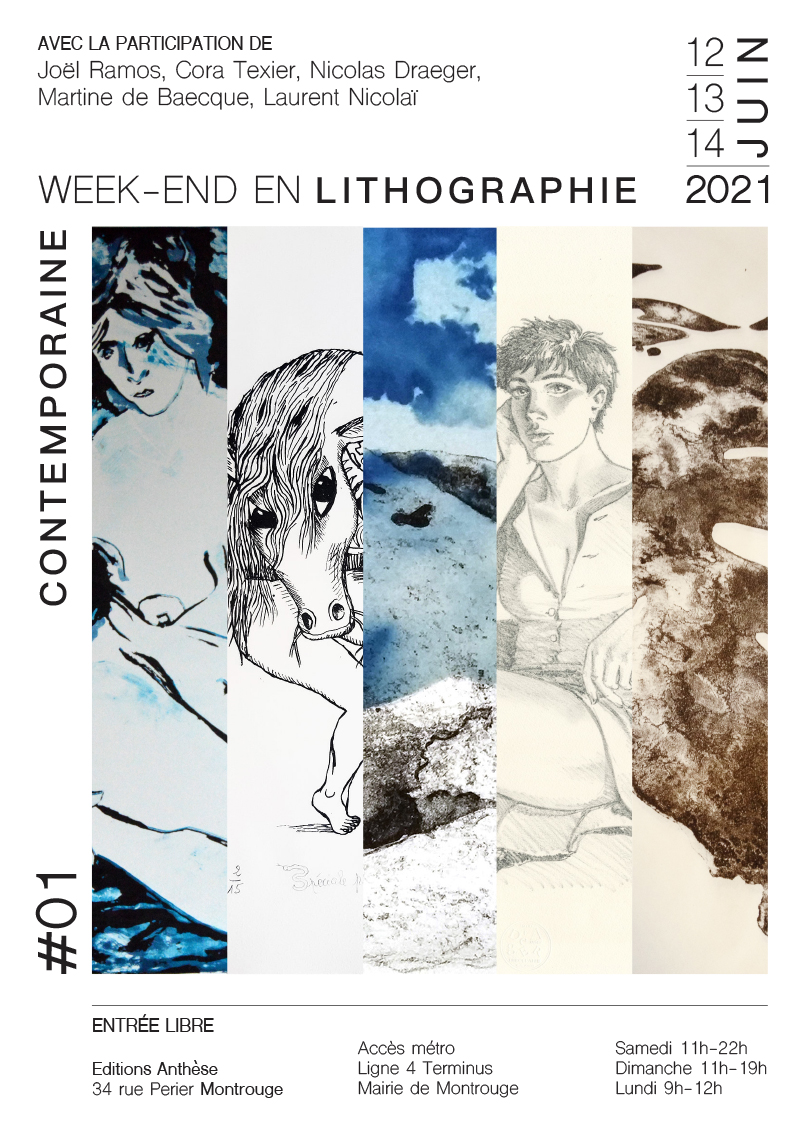 Performance venue : ANTHÈSE PUBLISHING HOUSE 34, Rue Perier, MONTROUGE


In May, here are virtual exhibitions to enjoy from the comfort of your own home, where you can discover ancient, modern and contemporary prints:

- IFPDA Spring 2021 Online Edition du 14 au 28 mai 2021 - www.fineartprintfair.org
- The New York Satellite Print Fair / Spring du …


To discover : Le Vieux Papier magazine n°440
Le Vieux Papier turned 120 years old in 2020.

If the event went unnoticed for reasons we know, the magazine continued to appear without fail, with articles always original and interesting. After the disappearance of the Nouvelles de l'Estampe, Le Vieux Papier became the only French-speaking magazine dealing with engravings and other more or less popular prints, with wide-ranging topics. Thus, the …


Alexandre Lunois' new catalog

Alexandre Lunois' new catalog by Giuliano Agostinetti
NFC editor from Rimini, Italy.

The book is written and edited by Giuliano Agostinetti, illustrated with about 200 images and completed by appending and enhancing collected data with relevant context obtained from Alexandre Lunois dell'André volume ( 1914). Two-thirds of the 300 or so issues of the catalog - in French - are accompanied by a photograph, therefore, making it, the most recent and complete catalog of A. Lunois' graphic work.
On this occasion the author takes the liberty, with the publisher's agreement, of offering the possibility of purchasing a personal copy at cost price by writing to:

giuliano.agostinetti@gmail.com
Professor Giuliano Agostinetti, Venice